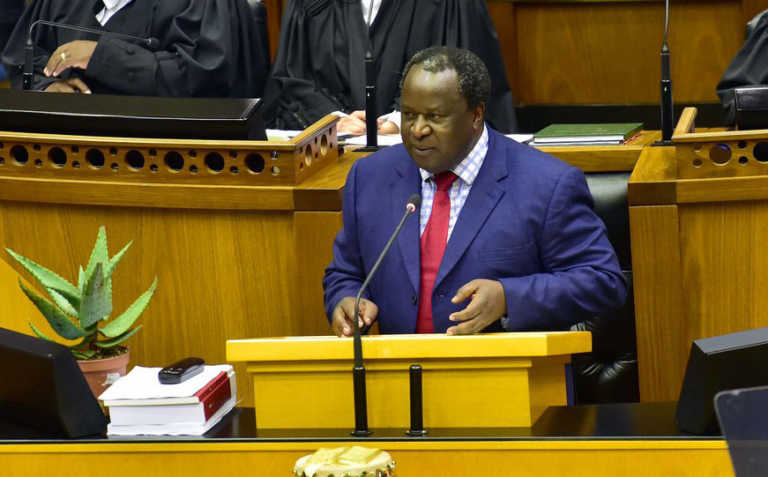 South Africa is not immune to events in the global economy and the expected slowdown in world economic growth will constrain the country's export growth forecast, leading to a weaker economic outlook.
This was according to the Minister of Finance, Tito Mboweni, who tabled the 2019 Budget in Parliament on Wednesday.
The National Treasury kept the GDP growth forecast for 2018 at 0,7% and expected GDP growth of 1,5% for 2019, strengthening moderately to 2,1% by 2021, he said.
READ Treasury cuts land reform budget
Mboweni added that the 2018 Medium Term Budget projected tax revenue for 2018/19 of R1,3 trillion and spending of R1,5 trillion, which would result in a budget deficit of R215 billion, or 4,2% of GDP.
In the coming year, he said, Treasury expected revenues of R1,58 trillion and spending of R1,83 trillion, which would result in a widening of the budget deficit to 4,5% of GDP.
"We will spend R243 billion more than we earn. Put another way, we are borrowing about R1,2 billion a day, assuming that we don't borrow money on the weekend," said Mboweni.
To address the revenue shortfall and prevent the budget deficit from widening further, the Budget proposed expenditure cuts amounting to R50,3 billion over the next three years.
Half of these savings were to be realised by making cuts to the public wage bill, which Mboweni described in his speech as "unsustainable".
"National and provincial compensation budgets will be reduced by R27 billion over the next three years. The first step is to allow older public servants, who want to do so, to retire early and gracefully.
This will save an estimated R4,8 billion in 2019/20, R7,5 billion in 2020/21 and R8 billion in 2021/22," Mboweni said.
He added that as a "gesture of goodwill", members of Parliament and provincial legislatures and executives at public entities would not be receiving a salary increase this financial year.
The revenue shortfall would be remedied through the collection of additional tax revenues to the value of R15 billion for 2019/20.
This sum would be raised by making no adjustment to the income tax brackets for inflation, which would generate R12,8 billion.
READ Agri sector highlights negative consequences of load-shedding
Increases in taxes and excise duties on fuel, alcohol and cigarettes would raise R2,1 billion and the carbon tax would come into effect on 1 June. Mboweni announced that the Department of Finance would also investigate introducing an export tax on scrap metal.
The minister spoke extensively about the risk that several cash-strapped state-owned enterprises, such as South African Airways, the SABC, Denel and Eskom, posed to South Africa's fiscal framework.
Referring to the crisis facing Eskom, Mboweni said that "pouring money directly into Eskom in its current form is like pouring water into a sieve".
"I want to make it clear: the national government is not taking on Eskom's debt. Eskom took on the debt. It must ultimately repay it. We are setting aside R23 billion a year to financially support Eskom during its reconfiguration into three independent components."
Mboweni explained that the fiscal support being made available to Eskom was conditional on an independent chief reorganisation officer being jointly appointed by the ministers of Finance and Public Enterprises, with the explicit mandate of delivering on the recommendations of the Presidential Task Team.
Join the Farmer's Weekly News WhatsApp Group for daily news updates.