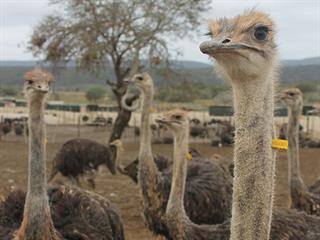 This was according to Dr Adriaan Olivier, the head of research and development at Klein Karoo International (KKI) in Oudsthoorn.
Healthy demand and a weak rand supported high leather and feather prices in the 2013/2014 production season. This may not be the case in the coming year.
"Ostrich leather and feathers are essentially fashion material, which by implication underscores the fact that it is either 'in' or 'out' of fashion. Our current experience is that ostrich leather is not as much 'in fashion' at this stage," said Olivier.
On the other hand the demand for grilled meat was growing, albeit from a low base, he said.
The demand for ostrich meat suffered a heavy blow after a ban was placed on the export of fresh meat to the European Union (EU) and the United Kingdom (UK) in 2011 following an outbreak of H5N2 avian influenza virus.The ban on fresh meat exports remains in place. Meat exports resumed last year after ostrich processors like KKI developed capacity to heat process meat, enabling them to export grilled products to the EU and UK.
Exports of the product currently stood at around 30% of fresh meat exports previously and was constantly growing, said Olivier.
"There is a constant demand increase throughout for grilled ostrich meat. However it is challenging times to find a dynamic balance between offtake in the market place and increase production volumes of ostriches."
The number of ostriches slaughtered was expected to increase from around 120,000 birds in 2013/14 to 180,000 in 2014/15.