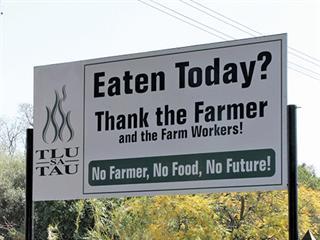 It has started erecting boards across the country with the message "Eaten today? Thank the Farmer and the Farm Workers".
TAU SA general manager Bennie van Zyl said that the image of the farmer was unnecessarily negative and people needed to be reminded of the role farmers and their workers played in putting food on the table.
"As a result of the negativity surrounding farmers, a lot of unnecessary and burdensome laws are brought into effect, which hamper the ability of the farmer to operate profitably," said Van Zyl. No other sector in the country has to comply with the kind of laws that farmers do, he added, citing the land tenure lawas an example.
He said each farm was a business in its own right and this shouldn't be taken for granted. "If they are not profitable then they won't be there next year, so we have to keep our farmers in production." The role farm workers played in producing food also needed to be recognised, said Van Zyl. "The farmer and his workers are a team and the public isn't always aware of how important this relationship is."
TAU SA is aiming to have at least 280 of the boards erected countrywide. Each district farmers' union will be asked to sponsor at least one board. Everyone else in the sector is also being encouraged to get involved with sponsoring as many boards as possible.
Follow Lindi on Twitter @lindi83