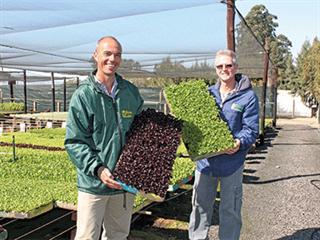 Producing more than 55 million flower, vegetable, and conventional and hybrid (clonal) forestry seedlings a year without sacrificing quality is no mean feat. However, this is precisely what KwaZulu-Natal-based Sunshine Seedling Services (SSS) does. The company was started back in 1982 as a means to diversify from the sugarcane farming enterprise that the Leisegang brothers, Terry, Clyde and Ken, purchased in 1981 on the outskirts of Pietermaritzburg.
The brothers have long been aware that quality and quantity are both essential if SSS is to stay ahead in this highly competitive sector. Over the past five years, they have also increasingly realised that incorporating new technologies is critical in helping the business achieve this.
Varieties
"There are a number of reasons why we produce the variety of seedlings that we do," explains Ken, the general manager of SSS's main nursery near Pietermaritzburg. "Forestry seedlings are our highest-value product and we have clients for them countrywide. However, demand for forestry seedlings is cyclical, peaking in the spring and summer months. "Vegetable seedlings, although lower in value, are in demand year-round from clients across KZN, and in parts of the Eastern Cape and eastern Free State."
Flower seedlings are also in demand year- round, but as they are bulkier and more perishable than the other seedling types, SSS delivers them mostly to Pietermaritzburg, and from Estcourt down to Hillcrest."Having these varieties of seedlings also spreads our business's financial risk," says Ken. With a smaller vegetable and forestry seedling production nursery at Park Rynie on the South Coast to service farmers in this area, SSS produces about 12,5 million flower seedlings, 30 million to 35 million vegetable seedlings, 10 million to 12 million conventional forestry seedlings, and about 8 million hybrid eucalyptus seedlings annually.
Production of the latter is a difficult and expensive process, but they are becoming increasingly popular among foresters, because the trees have good tolerance to many pests and diseases. Timber yields are also better.
Labour
Initially, one of the company's aims was to create as many jobs as possible for people living in nearby informal settlements, says Ken. As a result, seedling production at SSS became highly labour-intensive. "However, our rapidly escalating labour costs as a result of new minimum wages in recent years, meant that we were forced to re-evaluate this philosophy if we were to remain competitive against the more capital-intensive nursery businesses," he explains.
"We currently employ about 100 people across our entire business. "Fortunately, due to growing demand for our hybrid forestry seedlings, instead of retrenching employees, we've been able to transfer them from our increasingly automated sections to the hybrid forestry seedlings section." But any employees who choose to leave SSS are unlikely to be replaced.
Three sections
There are three sections of SSS where automation and strategic planning has been implemented: the seeding section, the nursery and the movement of seedling trays. SSS recently installed a R1 million Italian-made Urbinati Zeta seeding machine in the seeding section. Ken and his forestry seedling expert, Bryn Pollard, say this machine has already revolutionised the planting aspect of seedling production.

The Urbinati Zeta machine in the process of filling seedling trays with growing media and then seeding them with tiny cabbage seeds.
They explain that the previous planting machine, used by SSS for the past 20 or so years, could not plant large and unevenly-shaped seed such as maize, butternut and spinach. It also required hand-mixing of the different ratios of composted pine bark, coir peat, vermiculite and perlite used as growing mediums. "We had two employees dedicated to mixing about 6m³ of growing medium daily, from Monday to Saturday," says Ken.
"We also had a tray-filling team of three people, as well as three to four people hand-planting large or uneven seeds into trays consisting of 98 to 512 cavities each. Then we had two people actually operating the old machine. Bryn contrasts this with their new machine: "Our Urbinati needs a total staff complement, across all of the tasks previously done by the old seed planter, of just three people," he says.
"It can plant 650 trays an hour of all sizes and shapes of seed. Even during our peak planting periods, such as planting forestry seed in autumn to meet the forestry seedling demand in spring, we finish all of our planting in the first three days of every week." SSS has also seen a dramatic improvement in seedling quality since the Urbinati seed planter was installed. Seedling pulling percentages have improved by about 5%. This means there are now nearly 3 million more seedlings SSS can sell. And the company is planning to improve this figure even further.
"The improved pulling percentage has a positive ripple effect for our business because it means that space is being more productively utilised in the growing tunnels," adds Ken. "A poorly-filled seedling tray costs us the same to move through our system as a well-filled tray does. The improved pulling percentages as a result of installing the Urbinati will also contribute significantly towards speeding up paying off its purchase price."
SSS is also improving production efficiencies by gradually automating the nursery operation's irrigation and fertigation systems. It has chosen the Rain Bird system that incorporates rotary- and pneumatic-type sprinklers. Bryn says when installation is complete, a fully automated irrigation and fertigation system will reduce the Pietermaritzburg nursery watering staff requirements from 12 people to about three.
Programmed system
"The irrigation and fertigation will be monitored and controlled by a computer system. We'll programme the computer software with the desired time, duration and area of a particular irrigation or fertigation event," explains Bryn. "When it rains, a sensor will collect data on the volume of rainfall, and then send this to the computer that will calculate if additional irrigation is required to meet any shortfalls."
SSS wants to fully automate the company's irrigation and fertigation system not only to try to reduce labour costs, but also to improve irrigation and fertigation consistency. An advantage for the company is that most of the piping needed by the fully automated system is already in the tunnels and simply needs to be appropriately placed as the automation process proceeds.
Ultimately, the fully automated irrigation and fertigation system will have a wireless data and control link with the company's head office. Ken and Bryn agree that another important advantage of the system is that it will send warning messages to management's cellphones should any technical problems arise, allowing the team to respond quickly.
Seedling trays
A strategic plan implemented at the 6ha Pietermaritzburg nursery in recent months is improving the movement of seedling trays around the premises and increasing pulling speeds. Previously, all trays were carried by hand, or pulled on trolleys, between the various points. Now SSS has a small 32,5 kW TT435 New Hollandtractor with a rear-mounted forklift attachment that quickly carries a large load of palletised and shrink-wrapped filled trays between the centrally situated germination room and the growing-out tables spread across the nursery.

This 35kW TT45 New Holland tractor, driven by Celani Mkhize, is used to transport recently germinated seedling trays to growing out tables across the nursery.
Trays ready for pulling are loaded onto a tractor-drawn rack trailer and moved to a central pulling and packing shed. "This enables us to more closely monitor seedling quality and packing efficiencies," explains Ken. "The central pulling
and packing shed also has specially designed tables for the job. We're in the process of speeding up pulling and packing even further by installing a conveyor system in the shed." SSS has centralised the facility where seedling trays are cleaned and then dipped to kill any plant diseases.
The future
Ken and Bryn say they intend to make sure that, in the future, SSS implements and uses the most up-to-date technologies and practices needed to keep the business competitive. They are already calculating the budgetary allocations for the capital investment to allow for this. "Bryn and I often explore the Internet for the latest international innovations in seedling production. We're both also avid readers of any industry magazines that provide us with similar information," says Ken.

Why SSS chose the Urbinati Zeta
When looking for a replacement for its old seed planter, Ken and his management team found that theUrbinati Zeta would
be the best fit for their seedling business, particularly, as it appeared to be the most advanced seed planting machine in
the world.
They also felt that the Urbinati Zeta would generate the best value-for-money. When Urbinati heard that SSS was interested in buying one of its seed planting machines, the company told Ken it would be the first of its make in Southern Africa. At the same time, Urbinati asked SSS to become the regional Southern Africa agent for Urbinati equipment – an invitation that SSS accepted.
Phone 033 330 3047 or email [email protected]. Visit www.sunshineseedlings.co.za.