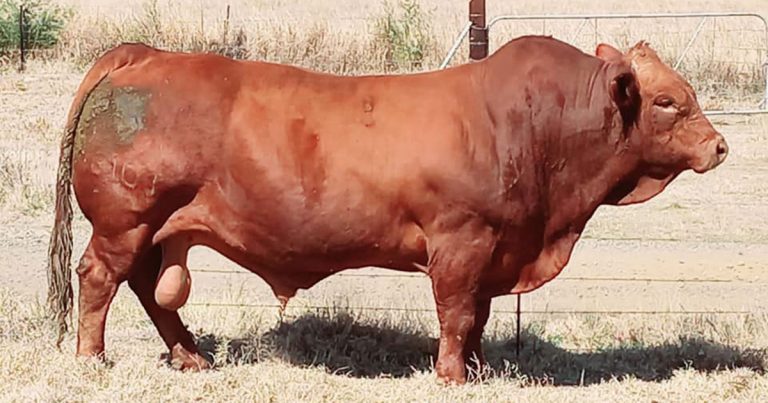 Over the last two years, a number of new records have been set for the highest prices ever paid for registered bulls from different breeds sold at production auctions.
During July, a new South African record was set by the Bos Blanco Beefmaster stud when it sold a bull for R1,1 million, while Twin City Game Breeders sold an Ankole bull for R3 million earlier in the year.
In addition, a Boran bull bred by the Meybor Boran Stud sold for a record price of R1,7 million in 2020.
READ Belgian racing pigeon sells for record price of R29 million
According to Connie Janse van Vuuren, managing director of Cona Marketing & Sales, average prices paid for bulls at local auctions had increased by at least 20% over the past year. On average, beef producers were now paying between R80 000 and R100 000 for registered bulls earmarked for the commercial market.
These higher prices, he said, were closely correlated with the increase in weaner prices. In August this year, weaner prices hovered at around R38/ kg, compared with the same time last year, when prices were around R32/ kg, and with 2019 when prices stood at around R29/kg. This meant that, over the past two years, weaner prices had increased almost 24%.
Higher bull prices were not only being driven by the increase in weaner prices, but also by higher input costs. For example, maize prices were up 23% year-on-year (y/y) in August.
READ 'Exceptional' Boer goat ram sells for record R375 000
Furthermore, according to recent market data published by Absa AgriBusiness, the beef-to-maize price ratio, an indicator of the profitability of livestock production, had decreased about 5% y/y, which showed that the earnings increase for beef producers was not keeping up with the rising cost of rearing animals.
Hans Bester, a Braunvieh stud breeder near Vrede in the Free State, said the direct cost of raising a top-quality bull up to the age of three years could amount to R40 000.
Given this direct cost, and also taking into account the value that a good-quality breeding bull would add to a herd over its productive lifetime, Bester said: "Current prices [for bulls] are not unrealistic at all."
"The extremely high-priced bulls are mainly acquired by the stud breeding sector. I would, nonetheless, caution commercial breeders to only consider [purchasing] registered bulls supported by sound estimated breeding values," he said.
Price calculation
The industry norm for the calculation of a fair price for a bull was based on the price of eight weaners multiplied by a factor of 10. This was according to Allan Sinclair, managing director of auctioneer Vleissentraal Bloemfontein.
Based on this calculation, and with weaner prices currently at around R8 000 for a seven- or eight-month-old animal, a price of R80 000 for a good bull was therefore quite acceptable, Sinclair explained.
READ Nguni bull sells for record R310 000 on WhatsApp auction
Independent agricultural economist Dr Johan Willemse said the fact that the South African beef cattle industry was still in a herd rebuilding phase following multiple years of drought also added to the high price of bulls being sold at production auctions.
However, some breeders expressed concern that the spike in bull prices could result in the genetic deterioration of the country's commercial beef cattle herd.
Flaf Lauwrens, breed director of the Braford Cattle Breeders' Society of South Africa, said: "I am worried that smaller producers would elect to start using bulls of lesser quality in order to make ends meet. This could have a disastrous effect on production by seriously compromising the prevailing high standards of beef cattle production in the country.
"I mean, how can a small producer with a herd of 50 cows afford or justify a bull [that costs] R100 000?"
According to Lauwrens, the time had come for commercial producers to reconsider making more extensive use of artificial insemination which, he explained, was a relatively inexpensive option for producers to gain access to a wide variety of high-quality genetics.
Lauwrens also stressed the fact that there were still top-performing bulls available at reasonable prices for the commercial sector among the smaller beef cattle breeds.