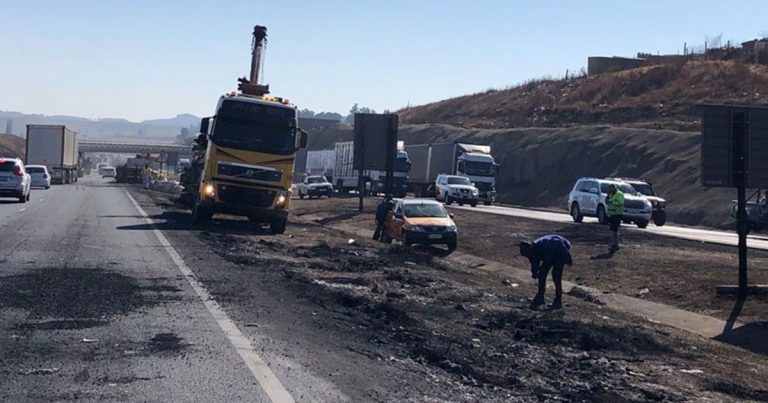 Fears are growing about food security as violent protests and looting continue across some parts of South Africa.
Trucks transporting food and those carrying produce for exporting have grinded to a halt as drivers fear for their lives. With shops in several malls already looted, food stocks are low and cannot be replenished.
READ Supply glut sees prices for wine spot sales fall by 40%
Christo van der Rheede, executive director of Agri SA, said the looting of shops, stoning of cars, blocking of roads, burning of trucks and crops, as well as theft of livestock were posing a serious threat to food security in the country.
"South Africa runs the risk of people not being able to buy or access food. This will lead to hunger and starvation on a national scale, which in turn will fuel even more social unrest and mayhem."
Agri SA appealed to the Presidency to declare a national state of emergency, which it said should go hand in hand with the deployment of security personnel in all affected areas.
"In addition, we also call on the Presidency to ensure that our logistical infrastructure such as roads, harbours and airports continue to function in order for food to be delivered."
With the N2 and N3 national roads currently blocked, citrus shipments destined for exporting were being held back by producers. The industry was in its peak season and exports to the value of R592 million were under threat.
Justin Chadwick, CEO of the Citrus Growers' Association of Southern Africa, said harvesting and packing could not be stopped since producers would then face losing their crops. Instead, fruit was being palletised and kept in cold storage on farms until the roads were safe again.
"Most cold storage facilities in the [Port of Durban] have closed down, as have the fresh produce facilities. People can't get to work so there is no one there to operate the ports."
Chadwick expressed concern about the ripple effect of the disruption in trade.
"Even if the unrest ends now, we will continue to feel the effects for some time to come as the sudden flow of produce will cause bottlenecks at the ports."
He added that a sudden glut of citrus on the market once supplies were flowing again would negatively affect prices.
"If you lose a sales-day you don't gain it later. We will see large amounts of citrus coming onto the market at once and this will impact returns."
Meanwhile, sugar cane farmers were also being affected as Agri SA reported that some sugar cane fields and other crops had been set alight in KwaZulu-Natal, with producers unable to extinguish the fires as they feared for their lives.
The situation was also affecting livestock farmers whose feed stocks had been set alight, while various sawmills had also been closed.
Although the avocado season was in full swing, exports had not been overly affected, since most shipments were being sent to harbours in the Western Cape.
Derek Donkin, CEO of the South African Subtropical Growers' Association, said producers had been able to circumvent problematic routes and thus managed to ensure a steady flow of produce.