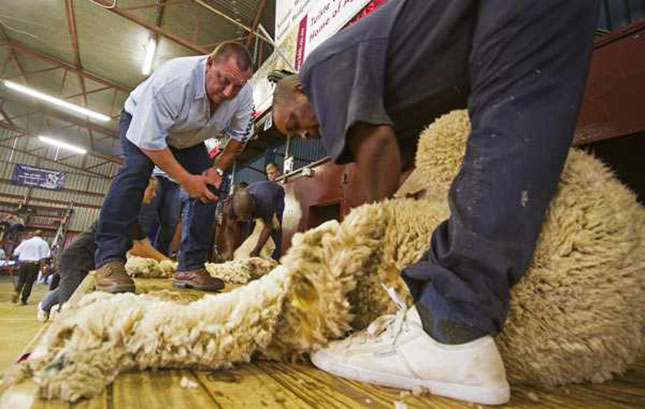 Sheep shearers from across South Africa are gathering in Bloemfontein this weekend to try and secure their place in the national team heading to the Golden Shears World Championship in Le Dorat, France, in July.
Chairperson of the South African Sheep Shearing Federation, Eddie Archer, said South Africa's shearers were well-respected across the world, especially blade shearers. "We are the reigning blade champions and have not lost that title since 1996," he said.
Archer said the current reigning world champion blade shearer, Mayenzeki Shweni, was one of the competitors to keep an eye on during the South African National Championship at the Bloem Show today and tomorrow.  Other strong contenders in the blade events included Bongani Joel, Paulus Notu, and Fickson Maqusha.
When it came to machine shearing, Archer said South African participants were some of the best in the world in terms of the quality and cleanness of their shearing work, but had fallen short on the speed of shearing in the past.
One of the machine shearers hoping to qualify for the South African team this year was Themba Khoza, who was also a shearing instructor for the National Wool Growers' Association (NWGA).
National team manager for the shearing federation and head of shearer training at the NWGA, Izak Klopper, said other top machine contenders to keep an eye on during this year's nationals were Abel Notsi, Izak Ndlongwana, Guillaume Strydom, Dumisani Xhasa, Shaun Hamlett and Charl Rodgers.
In the wool handling category, possible team contenders included Francisca Flynn, Janco Botha, Charl Rodgers and Nthandazo Tom.
Archer said competitors in the national championship had been drawn from regional and provincial competitions across South Africa over the past year. He said the competitive aspect of sheep shearing was important for the industry as it provided shearers with an opportunity to measure their skill against others.
Even more important, though, was the value to the farmer: "We don't teach them to race, we teach them to do quality shearing in as short a time as possible to enable them to earn a decent living," he said.
The team participating in the world championship will be announced directly after the national finals on Saturday evening.
It will comprise two blade shearers, two machine shearers and two wool handlers, with Klopper as team manager and Archer as a representative of the local shearing federation.