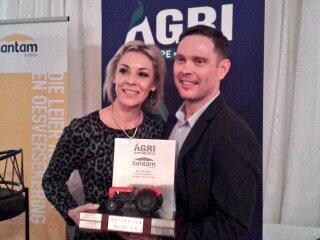 According to an Agri Wes-Cape media statement, Du Toit impressed judges with his strong leadership qualities and practical research mindset, the ability to think strategically and combine changes to systems on the farm so that they have a greater impact on the sustainability of his farming operations.
Du Toit farms with 14ha of table grapes in Sandhills near De Doorns in the Breede Valley. He has started to create a more effective workforce while also considering a more user-friendly scale for weighing grapes.
On receiving his award, Du Toit thanked his wife, Margot, for her support.
WCape Young Farmer of the Year, Jaco du Toit: one of the most underestimated assets in agriculture is support farmers get from their spouses

— Denene Erasmus (@agri_erasmus) May 28, 2014