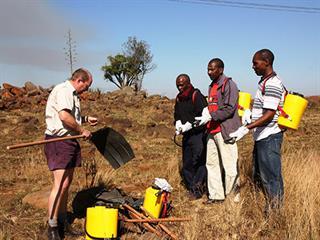 This fire season the impoverished Willowfontein community adjacent Baynesfield Estate approached the NCT Forestry Co-operative to request a donation of basic fire-fighting equipment and training on how to use it.
Robert Mncwabe told Farmer's Weekly that he and his fellow community members had for years experienced numerous problems associated with the damage caused by wildfires.
"Careless people often set fires to our grazing and to our crops," said Mncwabe. "But now NCT has donated fire-fighting equipment to us and has taught us how to use it."
READ MORE: Blazing or grazing – the great fire debate
NCT donated five water knapsack sprayers, five fire beaters and sets of heavy-duty gloves to the community.
NCT's forester at Baynesfield, Pete Odell, said it was the neighbourly thing to do to assist the community with its request.
Terry Tedder, the local fire protection officer for the Richmond Fire Protection Association, said, "Fires know no boundaries and affect us all. We need an educated and consolidated approach towards fires, fire prevention and fire-fighting. We encourage local farmers, companies and communities to become involved with fire prevention."
Odell said that it was encouraging to see how the Willowfontein community had taken the initiative in becoming involved in fire prevention.