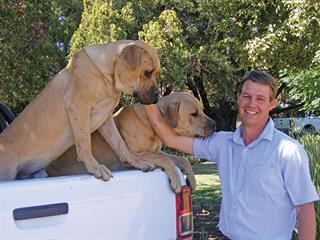 "Although I'm thankful for the experience I gained in the corporate world, I always knew that I would return to the land," says 34-year-old Sakkie van Zyl. Sakkie, who has an MSc in agricultural economics, joined his parents, Fanie and Susan, on the family farm, Fanie van Zyl Boerdery, in 2010. He previously worked as an agricultural economist at Grain SA and marketing support manager at Syngenta.
"My decision to become a full-time farmer wasn't based on sentiment, but on economics and the bright future I foresee for South Africa's food producers," he says. "With growing populations and an increasing demand for protein, our sector
will become increasingly important. And despite uncertainties such as land reform, property prices are skyrocketing and people are still buying land."
Farming conditions
Maize, sunflower and groundnut production makes up 80% of the farm's turnover. The balance consists of a commercial Bonsmara herd, mainly for weaner production, and a commercial SA Mutton Merino flock. Sakkie preferred not to divulge exact figures of the extensive farming operation. The weaner lambs, as well as cows and heifers to be culled, are rounded off in the farm's sheep and cattle feedlots.
"Specific crops and breeds are the best options for the conditions we farm in," Sakkie explains. "Our soils are mostly Clovelly, Avalon and Bainsvlei. The quality of forage consequently varies from that grown on shallow, rocky and low nutrient soils, to top quality red grass (Themeda triandra) veld. The condition of the poorer grazing areas has been improving since we implemented a rotational grazing system that allows at least half of the available land to rest for an entire season (12 months)."
The farm's annual rainfall vary between 450mm and 520mm a year. "But for the past two years it was only 280mm to 300mm in small, sporadic showers, followed by terribly hot weather. This had an impact on the business. The 2010/2011 planting season had exceptional rainfall and the high soil moisture level meant that the crops withstood the 2011/2012 drought reasonably well," Sakkie says. He adds, however, that in the 2013/2014 season, soil moisture was virtually depleted. Although good rainfall in the second half of the 2013/2014 season broke the drought in the North West, the Kingswood area received less than the rest of the province.
"We didn't plant groundnuts in the 2012/2013 season and decided to scale down on crop planting to conserve as much soil moisture as possible for the 2013/2014 season. With the lands left fallow in the previous season, we could plant our full complement for the current season," says Sakkie.
Planting crops
The Van Zyls plant mainly Monsanto's DKC 78-45 BR white maize cultivar, although they have planted trials to ascertain the performance of K2 Agri's white maize cultivars. Monsanto's DKC 80-40 cultivar is mainly used for yellow maize. Pannar's 7033, 7049 and 7057, as well as Agricol's 8251 sunflower cultivars, are used, and they plant the Anel groundnut cultivar. The average maize yield is 5t/ha, the sunflower yield is 1,7t/ha and the groundnut yield 1,8t/ ha.
The break-even yield for maize is about 3,5t/ ha at a Safex price of R2 000/t, and for sunflower it is 1,1t/ha at R4 700/t. At the current groundnut price of approximately R12 000/t for choice grade, the breakeven point is about 0,7t/ha. The inter-row spacing for maize and sunflower is 1,3m and for groundnuts it is 0,75m. Maize is planted at a density of 22 000 to 28 000 seeds/ ha, sunflower seed is planted to yield 50 000 plants/ ha, and groundnut seed is planted at 50kg/ha.
All the crop lands are mapped out using a grid and the soil is analysed every three years, with the necessary nutrients applied when needed. "I'm currently attaching yield monitors to our combine to determine the correlation between yield and position on the grid, to determine the soil potential more accurately and apply appropriate treatment accordingly," explains Sakkie. "We cut the maize stover early in the planting season, followed by ripping and then applying preplanting fertiliser as soon as possible afterwards.
"Depending on the soil's yield potential, the maize lands usually require nitrogen to be applied at 80 kg/ ha to 120k/ ha. We apply about 60% before planting and the rest during planting. For sunflower, we use 175 kg/ha of a prescribed 15N:10P:6K (32) + 8% S, MgO and 0,5%Zn mixture, applied at planting." The Van Zyls do not follow a specific rotational planting programme, but maize is normally followed by groundnuts and sunflower crops.
Groundnuts are planted only on high potential soils, and a land will only be planted to groundnuts every third year to preserve the soil structure and prevent soil-borne diseases from developing. Groundnuts are usually followed by maize. Lower potential soils are planted to either maize or sunflower every second season, depending on climatic conditions.
The maize and sunflower crop is marketed through Suidwes and the groundnut crop through Golden Peanut and Tree Nut SA.
The impact of drought
The past two seasons' drought have had a marked impact on the Van Zyl's livestock enterprise. "Although we'd built up quite a large fodder bank over the years, I still had to put some of the older cows into the feedlot far sooner than usual," says Sakkie. "I normally remove the older cows in May, but the drought forced me to put them into the feedlot by December 2013 and move the replacement heifers to the eastern Free State, where we have grazing land.
"We also leased additional grazing land in Klerksdorp, giving our veld the opportunity to recuperate to some degree after the little rain we did receive. We also used chicken litter to see our animals through the drought, while friends provided maize stover and we received some drought aid via Agri North West." A single breeding season (November to May) has been implemented in the beef herd. In the sheep flock, the ewes run with the rams from 15 October to 15 December (spring breeding season) and 15 April to 15 June (autumn breeding season). Bulls and rams are tested for fertility and STDs before the start of each breeding season.
All females that skip a breeding season are culled. Bonsmara weaners are marketed through Karoo Ochse in Vryburg, while other cattle are sent for slaughter to the Jan Kempdorp abattoir. SA Mutton Merino lambs are rounded off in the
feedlot and sold slaughter ready in Bloemhof and Makwassie. Sakkie and his father are both responsible for the record-keeping. This includes diesel usage as required by SARS, to qualify for the diesel rebate. Sakkie is also highly involved with the management of the labour force. He stresses that the drought has taught him the value of the old saying 'Tough times don't last, but tough men do'!
"It also taught me to be economically conservative during times of plenty to survive lean times. But I've learned that no matter how tough times might seem, deliverance is always closer than expected. I'm very thankful for the opportunity to farm with my parents. Their guidance has stood me in good stead."

Phone Sakkie van Zyl on 084 251 1864 or email [email protected].