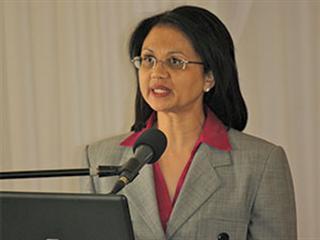 The reaction of representatives of organised agriculture to agriculture minister, Tina Joemat-Pettersson's budget vote address in parliament recently has been overwhelmingly positive. This, despite harsh criticism from opposition party members and a call for Joemat-Pettersson to resign.
Food security
Agricultural role players noted with optimism government's effort to pay greater attention to food security. Joemat-Pettersson said that a food security and nutrition policy had been developed and was being discussed by Cabinet.
"The main objective of this policy is to ensure that there is food security and good nutrition at all levels and segments of our society," she said.
Jannie de Villiers, CEO of Grain SA told Farmer's Weekly that the budget vote address gave the impression that food security had been elevated to the same level as education and crime prevention, making it a key area of concern for government. "This could signal greater government support for agriculture in future," he said.
Agri SA's executive director, Hans van der Merwe agreed saying that the minister sent out "positive signals" in terms of government's intentions to give more support to the sector in order to enhance food security. Joemat-Pettersson, presenting the Department of Agriculture, Forestry and Fisheries' (DAFF) R6,1 billion budget (R4,5 billion of which was allocated to agriculture), admitted that the department had not fared well in its intention to "support new smallholder producers while continuing to support existing producers".
New markets
She mentioned the importance of accessing new export markets for agricultural products. She said while relative success had been achieved in opening up trade between the Brics countries (Brazil, Russia, India, China and South Africa), problems were experienced regarding non-tariff barriers in some Asian countries. De Villiers said they were encouraged by DAFF's efforts to access new markets. He said even more promising was the co-operation given by other departments like the Department of Trade and Industry in negotiating new terms for agricultural imports and exports.
The opposition's response
Annette Steyn, DA MP, party spokesperson for agriculture and member of the Portfolio Committee on Agriculture, Forestry and Fisheries, said the need for government support for the sector had never been greater in light of the disappointing 0,9% GDP growth in South Africa in the first quarter of the year. "Government support is miniscule compared to support given by other countries to their farmers," said Steyn.
"The Producer Support Estimate, a measure of government assistance to farmers, is at 3% for South Africa compared to 12% for China and 24% for Russia." DAFF deputy minister, Dr Pieter Mulder, said to protect farmers, farms, farmworkers and ultimately food security, government's intervention via direct and indirect support mechanisms was needed.
Infrastructure
Mike Mlengana, African Farmers' Association of South Africa president, welcomed the minister's announcement that DAFF's 2013/2014 projects would be guided, in part, by the work of the Presidential Infra-structure Coordinating Commission (PICC). Mlengana, De Villiers and Van der Merwe told Farmer's Weekly the farming sector had long appealed to government to invest more in rural infrastructure that would benefit agricultural development.
Joemat-Pettersson said through programmes spearheaded by the PICC, government wanted to ensure "enabling agro-logistics and rural infrastructure investments that would unlock the potential of rural areas to create jobs". She said some of the projects would entail the expansion of facilities for storage, transport links to main networks, fencing of farms, irrigation schemes, improved research and development on rural issues and processing facilities.
De Villiers said grain farmers would benefit from any investment in South Africa's rail network. "At the moment only about 19% of grain gets transported by rail; if we can increase this it'll not only help curb food price inflation, but will also minimise congestion and wear and tear on our road network."
Decide and implement
While welcoming most of what Joemat-Pettersson had to say, farmer representative bodies pleaded with her to make the right promises, and to implement them. "We are happy to note that the department has set aside about R663,9 million for administration," said Mlengana. "We would like to appeal to the minister to use the money to build more capacity in the department to ensure speedy and sustainable implementation of departmental programmes and interventions. Service delivery can best be achieved if we invest in the capacity of the department."
Read the Budget vote tweets #DAFFbv2013 and join the conversation.