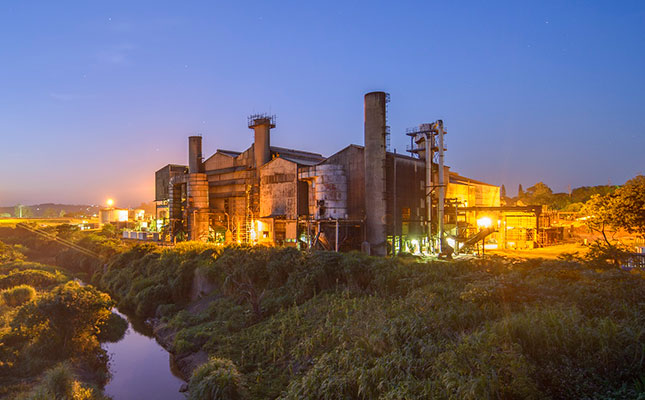 Tongaat Hulett Limited has confirmed that it will be mothballing its Darnall Sugar Mill in an effort to secure the long-term sustainability of the company.
The company has been struggling financially in recent years, which was exacerbated by the findings of a forensic investigation in 2019, that found Tongaat Hulett's financials were deliberately misstated by former directors and senior managers to make it appear to be in a better financial situation than it actually was.
The company has since embarked on a comprehensive turnaround strategy, with the latest decision being to mothball the smallest of its four South African sugar mills, the Darnall Sugar Mill on KwaZulu-Natal's north coast.
A statement issued on Wednesday said the decision was motivated largely by efforts to improve efficiencies and reduce operational costs.
"The fixed costs of producing sugar make up around 85% of our total costs in the sugar business. The removal of additional costs will help us make strides towards lower production costs in our sugar business and, in turn, afford us opportunities for investments for long-term sustainability through diversification."
The statement added that no decision had yet been made on the long-term future of the mill.
"This decision to mothball the Darnall Mill, together with rightsizing initiatives at [our] South African sugar milling and refining operations will unfortunately lead to the potential retrenchment of about 390 employees.
"In line with our value of doing our best for our local communities and stakeholders, and to mitigate the impact on all [sugar cane] growers, including small-scale and land reform growers, all cane previously delivered to Darnall mill will be diverted to Amatikulu and Maidstone mills," the statement said.
Responding to the news, Ronda Naidu, spokesperson for the South African Farmers Development Association (SAFDA), said: "We are currently consulting with our members who are affected by this matter and [we] agree that sustainability is a key consideration. This applies to all role players, particularly sugar cane farmers, the most vulnerable of whom are small-scale and land reform farmers, which we must not lose sight of."
Also commenting on the matter, Rex Talmage, chairperson of SA Canegrowers, said the organisation hoped that the closure of Darnall Sugar Mill would be temporary because the mothballing would impact SA Canegrowers's members who supplied sugar cane to the mill.
"There will be further transport distances to the alternative mills; a real chance that not all of their cane will be crushed; and other additional costs depending on cane supply agreements. The entire sugar industry is under threat from cheap [sugar] imports, the impact of the sugar tax, and plunging world sugar prices."
Talmage added that SA Canegrowers would continue to work with all stakeholders, especially government, to try to achieve a more sustainable and efficient industry for the benefit of all the country's sugar cane growers.