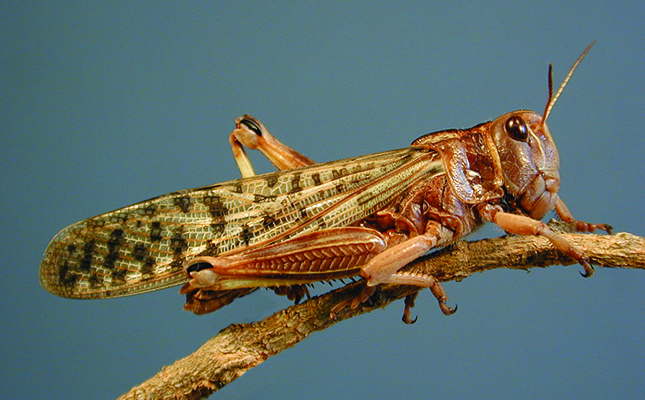 Crop losses of up to 33% have been reported after locust swarms invaded more than
168 000ha of farmland in India, with the provinces of Rajasthan and Gujarat worst hit, according to local media reports.
Responding to a question in the country's parliament on the scale of the outbreak, the minister of agriculture, Narendra Singh Tomar, said adult locusts had also been spotted in the Punjab and Haryana regions. However, no crop damage had been reported there as yet.
Severity of locust attack. This is from Karachi. India, Pak, Iran to many African countries are facing it. They are eating up hard earned crops & in African countries worsening already existing food insecurity. Now few reports are suggesting climate change behind them. Emergency! pic.twitter.com/m1msnOHZyF

— Parveen Kaswan, IFS (@ParveenKaswan) February 13, 2020
Rajesh Kumar, a plant protection officer at the Locust Warning Organisation in the city of Jaisalmer, said in a statement that swarms of adult locusts had entered Rajasthan through Pakistan in mid-December.
It was initially hoped that they could be repelled within a week, but the insects had continued to devour crops until the last week of January.
"As the swarm moves with the direction of the wind, it's very difficult to chalk out a plan to completely eliminate [them], which leaves some farmers vulnerable to fend for themselves," Kumar said.
Mustard, castor bean, cumin, oilseed and wheat crops had been the worst affected in the region.
The outbreak follows the locust swarms plaguing the Horn of Africa since the start of the year, which the Food and Agriculture Organisation of the UN (FAO) has called the worst outbreak in 25 years.
The organisation has expressed concern that the approximately 64km-wide swarm would grow 500 times larger over the next four months and wreak havoc in the region.
Rainfall had been forecast for the coming weeks, which was expected to trigger plant growth, resulting in the 360-billion-strong locust swarm increasing rapidly in number before the population peaked in June, the FAO said.
Locust swarms had already destroyed crops in Ethiopia, Somalia and Kenya, and damaged farmland in Djibouti and Eritrea before dispersing to Uganda and Tanzania.
The FAO warned that the outbreak could result in a humanitarian crisis in the region, due to food insecurity.
Keith Cressman, the FAO's senior locust forecasting officer, said Kenya had faced "waves and waves of swarms" since January.
The FAO recently revealed plans to test drones equipped with mapping sensors and atomisers to spray pesticides in parts of East Africa in an attempt to stem the crisis.
Authorities in those countries were already carrying out aerial spraying of pesticides, but experts said the scale of the infestation was beyond local capacity, as desert locusts could travel up to 150km a day.
The plague could exacerbate food shortages in a region, following three consecutive years of droughts and floods, according to aid agencies.