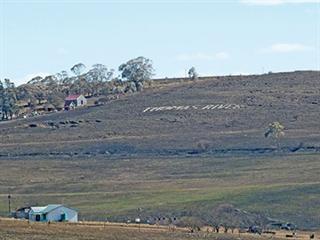 Elliot Gashiya, 42, and 23-year-old Msimelelo Joni were in a cottage on Doon Smallholding last month when gale force winds blew the roof off. "They went outside where they saw a bright light and heard a loud bang. They saw flames and smoke immediately," said Thamie Mnyanda, owner of the farm. "It wasn't like any other fire. The whole house was engulfed in flames and the wind spread the blaze quickly, trapping them."
Gashiya and Joni ran through the flames in an effort to reach safety. They were separated in the smoke and Joni was knocked unconscious after colliding with a fence. "Joni was caught by a fence while he was running and fell," said Mnyanda. "He said the fire then came to him and he woke up and ran for cover, but by this time, all his clothes were burned off." The two were taken to Frere Hospital in East London with severe burn wounds.
Joni succumbed to his injuries and died the following day; Gashiya is in intensive care with third-degree burns from the waist up. Fuelled by winds believed to be driven by a tornado which devastated parts of Mthatha, the blaze moved extremely fast and consumed an estimated 5 140ha of grazing, 190 sheep, 48 cattle and a number of other animals, including antelope, pigs and donkeys.
The fire also destroyed at least 135km of fencing and five buildings in the area. "The fire was started by lightning in two or three places," said Mark Wardle of Doon Farm. "The tremendous wind spread the fire so rapidly that even some game species such as impala, springbok and mountain reedbuck were burned."
Reginald Treadway, assistant manager of Thomas River Historical Village, estimated that the fire had been travelling in excess of 36km/h. "The wind was howling and in 10 minutes it moved about 6km. My main concern was to get the staff to safety." Parts of the museum were quickly engulfed. "I lost nine vehicles that can't be repaired, they're totally finished," said Jeff Samsom, owner of Thomas River Historical Village.
"Four Mercedes, a Mini, a Messerschmitt, two tractors and a bus are just shells now," Samsom said. Thomas River is one of the many districts ravaged by fires in the area recently. "My farm is completely burned. The cows, cottages, pigs and their storage. "If the government wants to declare a disaster (area) and assist us with anything, I'll be grateful," Mnyanda said.