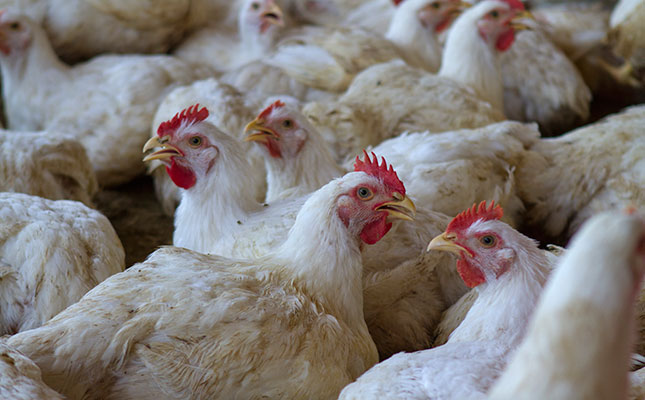 More than 130 000 birds have already been culled or died in the Western Cape to date as a result of the recent avian influenza outbreaks in the province, according to the Western Cape Department of Agriculture.
There were currently four poultry farms in the province where avian influenza had been confirmed, situated near Worcester, Malmesbury and Hopefield.
"Two farms have been confirmed to have the HPAI [highly pathogenic avian influenza virus], though laboratory confirmation is still pending for the other two farms. The relationship [of this virus] to [those] present in the northern [regions] of the country is unconfirmed," Western Cape MEC for Agriculture, Dr Ivan Meyer, said in a statement.
He added that the Western Cape Veterinary Services was also in the process of investigating other suspected cases.
Daniel Johnson, spokesperson for the department, told Farmer's Weekly that the laboratory tests on the genes that classified the virus as highly pathogenic were performed at Onderstepoort Veterinary Research in Pretoria.
"The turnaround time is approximately one week, depending on how long [it takes for] the samples to travel there and how busy the laboratory is. However, we can make a presumptive diagnosis of HPAI based on the high mortalities seen in the chickens, and the similarities in the clinical signs between the affected farms," he said.
In 2017, the province was severely affected by avian influenza. According to Johnson, about 2,9 million chickens died or were culled during that outbreak, including 2,8 million layer hens and 150 000 broiler breeders.
Nationally, about 5,4 million birds, including 4,7 million layers and 700 000 broilers died or were culled.
"Our vets are of the view this is already a repeat of 2017. It is impossible to prevent new avian influenza viruses from entering South Africa and spreading within our borders [due to] the natural movement of wild birds," said Johnson.
He said it was possible to significantly reduce the risk of the virus entering a poultry farm by having strict biosecurity measures in place.
"The province's veterinary services has spent the years since the outbreak in 2017 preparing for another avian influenza outbreak, and we are very well prepared to react swiftly to this one. We have also spent time educating farmers on the biosecurity measures they should have in place, and the contingency plans they need to have should disease outbreak occur on their farms.
"[But] our response can only be effective if farmers and private vets notify us immediately when they see suspicious bird deaths, and if farmers have prepared sufficiently to be able to depopulate their farms and dispose of the carcasses quickly."
South Africa currently has 11 reported cases of HPAI.
Agbiz chief economist Wandile Sihlobo told Farmer's Weekly that it was still too early to tell whether the outbreaks would have a notable impact on poultry prices.
"If anything, higher feed costs are driving up meat prices," he said.
He pointed out that the Minister of Agriculture, Land Reform and Rural Development, Thoko Didiza, had expressed concern about animal health in the country in her recent budget address, and said near-term interventions were being undertaken by state scientists and various programmes of the Agricultural Research Council and the Onderstepoort Biological Products facility.
"It is unclear to us if these two particular institutions can address the increasing incidence of animal and plant health diseases, or if there needs to be increased reliance on the private sector to address the deteriorating situation in both institutions."