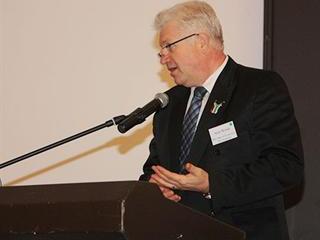 Western Cape premier Helen Zille on Wednesday (21 May) announced the members of the provincial Cabinet saying that over the past five years the DA administration had developed a strategic plan for the province that focused on economic growth, job creation and combatting poverty.
She added that the new Cabinet was structured in such a way that the province could proceed to implement this strategic plan.
Many of the provincial government departments would continue to function under the same leadership, but one of the important adjustments made was to combine the departments of agriculture and economic development and tourism under a single executive authority.
Formerly the provincial MEC for economic development and tourism, Winde will now also lead the agriculture department.
"Agriculture and tourism constitute the backbone of the Western Cape's economy. In a new innovation, the two departments have to maximize economic growth and job creation potential in the Western Cape," said Zille.
Winde told Farmer's Weekly that agriculture was recognised as one of the most significant economic sectors in the Western Cape and key to unlocking growth.
"I look forward to working with the sector and to create an enabling environment in which agriculture can reach its full growth potential," he said.
According to Winde, agriculture was of particular importance because of the unique role that the sector played in rural areas, while most other economic sectors were concentrated in urban areas.
Therefore much focus will be placed on assisting the farming sector to revitalise rural economies and drive rural job creation.
To further contribute to economic development in rural areas, Winde said the provincial government had already approved the spending of R1,3 billion to roll out advanced broadband services to all government institutions across the province. He said this would make a meaningful contribution to increasing the province's international competitiveness.
Winde said more emphasis also needed to be placed on increasing agricultural trade between the province and African countries.
He was planning to visit farmers and other agricultural role players in the province within the next month or two: "I want to talk to the sector and learn what the main challenges are and also discuss how government can play a role in helping farmers address these challenges."