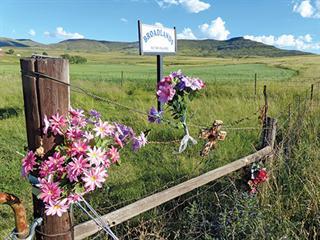 Late 2013 and early 2014 is a period the farming community of Barkly East will remember for all the wrong reasons – two farm attacks, and three lives lost. First, the retired couple David (87) and Ralie (86) de Villiers were brutally stabbed to death in their home on the farm Broadlands in October last year. Their son, Dawie (53), survived after being airlifted to Bloemfontein.
Then in January this year, well-known Merino farmer Sarel Pretorius was shot dead on his farm Roodepoort in the isolated Zuurvlakte region. The two attacks so close to each other brought the old topics of rural crime and the increasing vulnerability of isolated farmers to crime to the fore – again.
A season of farm murders
Barkly East and surrounds are no stranger to farm killings. Victims include the elderly Desmond Cloete from the Happy Valley farm (2001), Thembisa Ntsabo, a young black teacher living near a small farm school on Roodepoort farm (2004), and Henry Potgieter from Stoppoort (2008).
The De Villiers couple were killed by Thulani Mkhentane, a man who knew the house well. In 2012, the 22-year-old Lesotho national had stolen money and a handgun from Broadlands before escaping to Lesotho, where he was arrested for a separate crime and jailed. On his release, he returned to Broadlands.
Before attacking David, Ralie and Dawie, the HIV-positive man had apparently watched their home for hours from behind a reservoir. After smoking nyaope – a mixture of crushed anti-retroviral medication and dagga – he slipped down to the home in the dead of night and squeezed his way through the en suite bathroom window before stabbing his three victims and cutting their throats.
About three months later, Sarel (61) was home with his wife, Anna-Marié, when a white Toyota bakkie arrived. Two men – Bongani Nojokwe (31) and Vumile Dingalibala (28), who had stolen the vehicle and a firearm from a neighbouring district – climbed out. A handgun was immediately drawn. Anna-Marié was forced to open the safe at knifepoint.
Sarel was held at gunpoint on the stoep, and when he attempted to slip into the house behind the security door, he was shot dead through it. The killers, who were apparently linked to an armed robbery and had escaped from custody in the Western Cape, got away with cash and another handgun.
Adapting to crime
The tragedy of the murders is relived by those left behind. David and Ralie's daughter, Christina, is still haunted by the night that her parents were killed. Five months after the incident, she says that besides the suffocating grief, the experience has made it difficult for her to trust strangers.
"My trust in my fellow human beings has been shaken," she says. "So you find yourself looking into a stranger's face and asking what his intention is.''But Christina, a doctor who with her husband Johan, who is also a doctor, runs one of the top rural hospitals in the Eastern Cape, is determined not to give up on Barkly East. "You can't allow a person like that to influence the rest of your life," she says of Thulani.
"You need to carry on and find ways to get the joy again."
Many family members of farm attack victims have inevitably begun suspecting the intentions of others. Francois Pretorius, the son of the late Sarel, can identify with this distrust. He tells how his family had always tried to improve the lives of their workers, including fighting to keep a farm school open on their property.
"We try and uplift our labour to create a better future, because we also want a better future for them,'' he says. "What does it help if you help your workers on the farm and in 20 years their grandchildren come and kill you?" he asks.
The SAPS and crime
But Colonel Trevor Mey, the Barkly East SAPS cluster commander, says: "We don't have a problem with crime." In fact, he would rather retire in Barkly East than places such as Gonubie near East London. He stresses that compared with other towns in South Africa, Barkly East's crime rate is definitely not out of control and says farm killings, where most victims are white, should be seen in perspective, considering that 99% of contact crime in the region was black-on-black.
However, he continues, farmers represent particularly soft targets for criminals, given their perceived wealth and isolated positioning. "There's this idea that farmers have money and weapons," he explains. In addition, some farmers are not "security conscious" enough. According to Mey, effective security measures include having small dogs in the house to alert the owners to intruders and being disciplined about securing homes and distrusting strangers.
He stresses that selling produce or livestock from farms is risky.
"A 'Sheep for sale' sign' [which is often put up at the farm gate] means – in addition to the fact that there is money – 'I give you permission to enter, and it doesn't matter what time of the day'," he says. The SAPS in Barkly East has a particularly good track record for arresting perpetrators of farm violence in the area. David and Ralie's killer was arrested before lunch the next day, while the detective branch under the leadership of Captain Jane Oelofse tracked down Sarel's alleged killers in Hillbrow in Gauteng.
This sterling police work is something the community should be proud of, says Barkly East resident Andrew Clark.
"The SAPS went and fetched those guys in Hillbrow," he says. "That's incredible." Francois agrees. "I take my hat off to the detective services; they really worked hard, and the times they were on the farm with us they were decent and very professional. They did a very good job," he says.
Present freedom, past baggage
It seems as if crippling poverty and widespread unemployment could be some of the main contributing factors to the farm attacks, with the Barkly East community being one of many in the province largely propped up by the social grant system. Yet, as Kevin Meise from the local Barkly East Reporter and local businessman Stanley Mantile point out, the grants handed out to the unemployed and those living with HIV, among others, are abused, often to buy liquor.
"It [the boozing] is from the grants because the young girls from 18 to 21, have kids, and they're getting money, and some of them are not working," says Stanley. "If they have HIV, they get a grant for that too," Stanley says. "I think our people need to be monitored – you can't just give grants and then don't go and look what's going on."
Crime is often linked to alcohol abuse. But it is also fuelled by the abuse of marijuana, says Community Policing Forum member Gibson Gini, who works for the Joe Gqabi District Municipality, which has its head office in Barkly East.
"Barkly East is becoming a springboard [for the marijuana trade] because people are stealing things from here, going to Lesotho and exchanging these for dagga," he says. The dagga is then mixed with ARVs to produce the hallucinogenic nyaope, also known as whoonga. "Nyaope's a serious problem," says a man of Sotho descent who grew up in Barkly East. He asked to remain anonymous.
Gangs and unemployment
Furthermore, Gibson says the incarceration of youngsters – who often grow up in broken and fatherless homes – in gang-dominated prisons can create as many problems as it solves."Those boys who come out of prison have that idea of the gangs," he says. "They steal, they stab people, they do whatever."
Rampant unemployment, a growing population (800 new homes will soon be built in the township outside Barkly East, yet municipal services to existing homes are barely sufficient), misappropriation of grant money, abuse of alcohol and narcotics, a shortage of male role models, and a gang-dominated prison system all contribute to an environment where crime and violence can fester.
And against this backdrop, farmers, who are most often perceived as wealthy, make for soft targets for opportunistic criminals, says the anonymous Barkly East resident.
"Our people believe every farmer has money," he explains. "People won't buy goods if they're stolen from a black person because they see it as theft, but if it's stolen from a white person, it's not like theft – it's like repossessing."