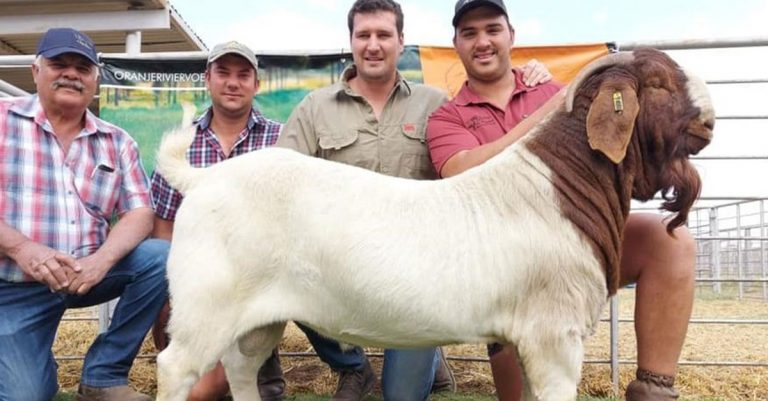 The world champion boer goat ram, 'Maserati', bred by the Lukas Burger Boer Goat stud near Griekwastad, was recently sold for a record price of R500 000 to Salmon van Huyssteen Boer Goats near Pretoria and the Joubert Horn Boer Goat Stud near Vryburg.
Burger said it was not the highest-price ever paid for a Boer goat, as he had since heard about Boer goats selling for more than US$46 000 (over R681 000) in the US.
It nevertheless broke the previous South African private sale record of R450 000, which Burger set about four years ago with a ram called 'Tolla'.
Burger also holds the record for the highest auction price paid for a Boer goat ram, which he achieved when he sold 'Klein Booster' for R375 000 to Boeram Venter of Kirkwood at the stud's 22nd production sale last year.
At the farm's recent production auction, the highest bid was R290 000 for a ram, while the average price was R36 900 for rams and R31 500 for ewes.
Burger said prices of Boer goats had been growing steadily over the past four years, primarily because of growing international recognition of the exceptional quality of their meat.
"South Africa is not exporting any meat as we are struggling to supply enough goat's meat to stock local shops. Most of the meat is sold to the informal market [in] KwaZulu-Natal.
"Nevertheless, live goats and genetic material are exported to various countries. The markets in Namibia and Botswana have been closed due to [South Africa's] foot-and-mouth disease outbreak, but India and Thailand are still open."
He added that many farmers were building stock levels thanks to improved climatic conditions, and some game farmers, who had been negatively affected by COVID-19 lockdown measures, were switching to goat production, as they already had good fencing, which was a prerequisite for goat farming.
Joubert Horn, who co-bought 'Maserati', said prices of good-quality Boer goat ewes and rams had increased greatly over the past few years due to growing international demand for Boer goat genetics.
"The fact that Van Huyssteen and I bought the ram together, will help to ease the cost while being a great investment in the future for both our studs, and presenting great learning and marketing opportunities for both of us."
Twenty "matings" by 'Maserati' will be auctioned off at the X-treme Genetics auction, which Horn will host in November in collaboration with Huyssteen, Stafford Collen and Albie Horn.
"Farmers will be able to choose whether they want to bring their ewes to the farm for mating, [or buy] straws for artificial insemination."