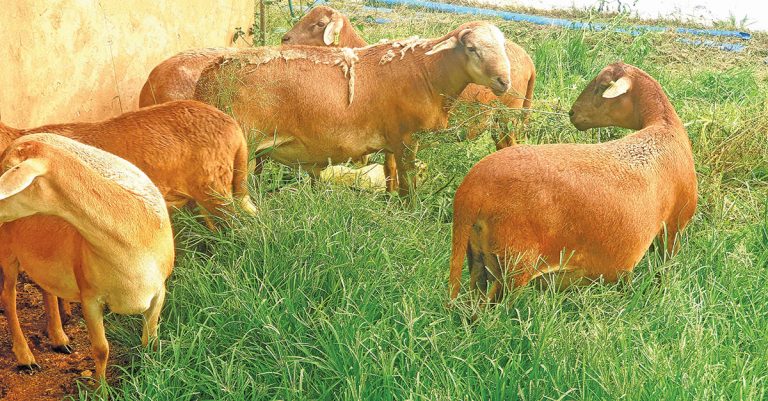 Thabana Mokgohloa is a part-time smallholder and producer of maize and sheep on a farm near Nnoko village in Ga-Mothapo, Limpopo. His parents had always been subsistence farmers, and Mokgohloa attributes his love for farming to the experience he gained while watching over the family's livestock when he was a young boy.
His father, Selepeng, could not farm full-time, as he worked in Johannesburg and was only able to spend some weekends and holidays on the farm. However, when he retired in 2000, he moved back home to Ga-Mothapo permanently to focus on his livestock.
READ Breeding wireworm-resistant Meatmasters
Mokgohloa studied towards a BCom through Unisa, which he completed in 2004. He worked as an economic development practitioner in the local government sector, and is now an assistant manager for economic planning and development at the Polokwane Local Municipality.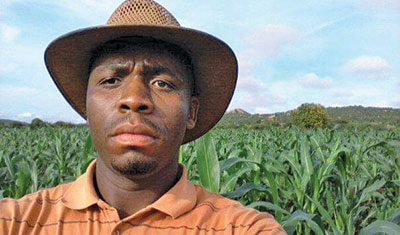 In 2009, he took the decision to become more invested in the family's farming business and began to introduce Dorper genetics to their mixed-breed sheep flock. After the death of his father in 2011, Mokgohloa hired a shepherd, who helped him continue growing the flock.
When he had first joined the farm, the family had about 20 sheep, but he grew the flock to more than 200 head in less than five years. Then, in 2020, inspired by an article in Farmer's Weekly, he switched to Meatmaster breeding.
Working with Meatmasters
"I decided to change to Meatmasters because the breed is hardy, the animals can graze and browse and therefore make maximum use of the veld, and the breed has been developed along economic principles," says Mokgohloa.
"My focus is on quality rather than quantity. I breed for a commercial market, and my aim is to breed fertile sheep for optimal meat production. I have approximately 50 Meatmasters at the moment, and hope to grow the breeding flock to 300 productive ewes over the next five years."
He adds that another advantage of farming Meatmasters is that the ewes can begin breeding earlier than some other breeds and, as a result, they lamb within a shorter period.
Dorper ewes, for example, start breeding only at 12 months, and will therefore produce a lamb at 18 months, whereas Meatmaster ewes can be mated at around eight months and produce their first lambs at 14 months.
READ Meatmasters: bred for tough conditions and good meat
Mokgohloa started with seven ewes and one ram, and the size of the flock has since increased to 44 ewes and two rams.
"I'm in the process of registering with the Meatmaster Sheep Breeders' Society of South Africa so that I can be recognised as a commercial breeder," he says.
Land and grazing
Mokgohloa farms on a 50ha parcel of land that forms part of the 118ha owned by the Roman Catholic Church's Subiaco Mission.
"I have a good relationship with the church, as I grew up attending services there,"
he explains.
"They also keep goats and chickens, and run a vegetable garden.
"I assist them with their farming activities and have helped them market some of their produce to a local supermarket."
According to Mokgohloa, there is a huge market for sheep in Polokwane and the surrounding areas, and his ambition is to capitalise on this by continuing to grow his flock.
The 50ha is divided into three camps, which are rotated every two-and-a-half months, giving each section of the land about five months to rest between grazing periods.
"The church has given me permission to use an additional piece of land should I experience grazing shortages due to insufficient rainfall, but the rainfall is normally good. We receive an average of 450mm per annum."
During winter, when grazing is in shorter supply, he gives the sheep supplementary feed of lucerne, molasses and yellow maize.
Breeding and disease prevention
Mokgohloa does not follow a controlled breeding season at the moment, but intends implementing seasonal breeding when the flock gets larger.
"Ultimately, I want to achieve three lambing seasons every two years," he says.
During the rainy season in summer, the area experiences high tick loads, and the sheep are more susceptible to parasites. To keep his flock healthy, Mokgohloa deworms them twice a year, and dips them every three to four weeks during the wet season.
READ The importance of breeding seasons and good male genetics
"I also vaccinate them twice a year with Multivax P-Plus to prevent diseases such as lamb dysentery, pulpy kidney, tetanus, blackleg, clostridial metritis (malignant oedema of the uterus), bloodgut and infections caused by Clostridium novyi type B. The flock's mortality rate is about 5% per annum due to common issues such as snake bites and heartwater."
Mokgohloa keeps basic records, which include lambing dates, the sex of lambs, ease of lambing, sire performance, and ewe health. He uses this information to help inform his management decisions regarding replacement ewes and sire selection.
He prefers to sell all the ram lambs at five to seven months old, and then buys in new rams. These are kept for three breeding seasons before being replaced.
Marketing
"Most customers know about my sheep through word of mouth, but I also market my animals on social media, which attracts other farmers as well as ordinary customers. I use my bakkie to deliver the sheep within a 10km radius."
According to Mokgohloa, the price range for a young slaughter ram in Polokwane is between R1 700 and R4 000. He adds that some farmers from the Northern Cape transport their sheep to Polokwane and sell them on the roadside. During peak periods such as Easter and Christmas time, they can sell more than 2 000 sheep in four weeks.
Mokgohloa has seen how most farmers in the area have normalised subsistence farming.
They keep a few sheep, goats and cattle, but do not grow their numbers to any extent. The animals are slaughtered for household consumption during the Festive Season and for other family gatherings, but are rarely sold to generate income, which is sorely needed.
In order for the economy in the area to really evolve, the farmers here have to develop a commercial production mentality, rather than a subsistence one, he says.
He adds that there is historical evidence that proves the area's potential as a commercial farming region.
According to him, up until the 1980s, Ga-Mothapo was known for its dryland cultivation of maize, sorghum and millet. For various reasons, however, primary production declined from the early 1990s. There was less emphasis on agricultural production, and more households changed to maize farming so they could meet their own food requirements.
At the same time, climatic conditions worked against traditional dryland cultivation practices.
But the tide might be turning once again, says Mokgohloa.
"Although [Ga-Mothapo] doesn't have a well-developed and diversified agriculture sector, it does have abundant agricultural resources. If used wisely, these can be used to stimulate a vibrant, sustainable industry that could contribute to the economy in the future.
"Increased farming activity and extra disposable income will stimulate the local economy, creating additional business and job opportunities. Smallholder farmers here must jump at this chance."
Email Thabana Mokgohloa at [email protected].