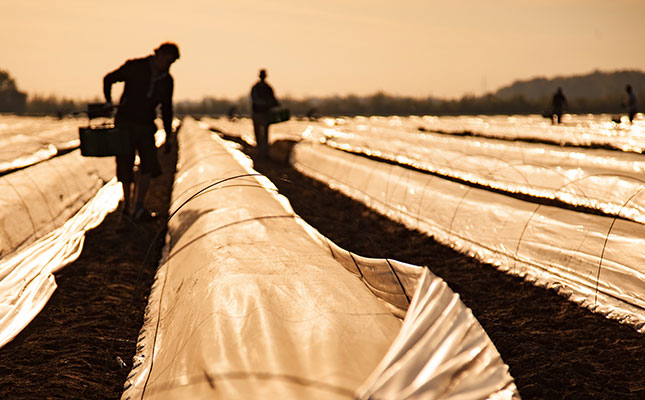 Lockdowns in countries around the world, imposed by governments to slow down the spread of the coronavirus disease (COVID-19), along with travel bans and restrictions on movement is posing a severe risk to the global food supply chain.
This was especially true for farmers who usually relied on seasonal or migrant workers to harvest crops.
The Guardian newspaper in the UK recently reported that that country would need to "charter planes to fly in farmworkers" to prevent fruit and vegetable stocks from running out. It stated that the UK urgently needed to fill 90 000 positions for workers to pick crops "that would otherwise die in the fields".
"Charter flights to bring in agricultural workers from eastern Europe are needed as a matter of urgency, otherwise fruit and vegetables will be left unpicked in [the UK's] fields," The Guardian reported.
The Guardian earlier reported on a 'Feed the Nation' campaign that was being driven by several labour providers and backed by the UK's environment minister George Eustace.
The campaign called on UK residents to mobilise themselves to harvest crops, beginning with asparagus that would be ready for harvesting next month.
The industry body British Summer Fruits (BSF) also put out a call on its website for berry pickers to work on farms across the country during the summer season.
Stating that no experience was necessary, a wide range of seasonal farmworker positions were offered, including fruit pickers and packers, plant husbandry workers, and forklift drivers.
BSF said farmworkers were classified as key workers by the UK government. "This means that as a key worker, you are able to travel to and from work, and your children may still be able to attend their local school."
Similar challenges were also evident in other countries in Europe, as well as the US and Australia, amongst others.
Reuters earlier reported that the Italian agriculture sector was under pressure, with planting unable to proceed as tens of thousands of migrant workers from countries such as Romania or Albania were no longer available.
The Deutsche Welle news network in Germany reported on Monday that "luxuries" such as asparagus could become a rare delicacy, due to border closures preventing the entry of experienced teams of farm labourers from eastern European countries.