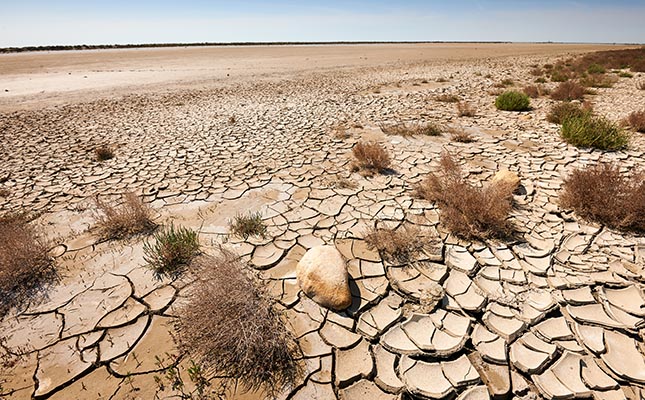 A collaboration agreement to safeguard water and soil resources, while fighting desertification, was signed by the UN Food and Agricultural Organisation (FAO) and the New Development Bank (NDB) on Monday to coincide with the UN's World Day to Combat Desertification and Drought.
FAO director-general José Graziano da Silva and New Development Bank president Kundapur Vaman Kamath signed a formal agreement to jointly help countries achieve their sustainable development goals adopted by all United Nations' member states in 2015.
The National Development Bank is a multilateral development bank that was established through collaboration between Brazil, Russia, India, China, and South Africa (BRICS countries) in an effort to combine resources for infrastructure and sustainable development projects.
Speaking during the opening of the second International Seminar on Drought and Agriculture at the FAO headquarters in Rome on Monday, Graziano da Silva said: "It is quite impossible to avoid a drought from happening, but we can avoid a drought turning into famine or displacement of people."
In his speech, he stressed that an estimated 80% of damage and loss caused by drought was absorbed by the agricultural sector.
"Every year, the world loses 24 billion tons of soil, and dryland degradation reduces the national domestic product in developing countries by 8% annually," UN secretary-general Antonio Guterres, said at the event.
"We must urgently change such trends. Protecting and restoring land can reduce forced migration, improve food security, and spur economic growth. It can also help us to address the global climate emergency."
Graziano da Silva said the agreement with the New Development Bank was aimed at facilitating collaboration in areas of common interest such as food and agriculture, agricultural and rural infrastructure, and sustainable rural development and investment.
Kamath added that: "The knowledge sharing engagements, which we have implemented to date, have been particularly helpful in enhancing the bank's approach to ensure that our projects can deliver transformative results in line with our member countries' development needs," he added.
According to a statement by the FAO: "Desertification is the degradation of land in arid, semi-arid and dry sub-humid areas. It is caused primarily by human activities and climatic variations.
"Desertification does not refer to the expansion of existing deserts. It occurs because dryland ecosystems, which cover over one-third of the world's land area, are extremely vulnerable to over-exploitation and inappropriate land use. Poverty, political instability, deforestation, overgrazing and bad irrigation practices can all undermine the productivity of the land".