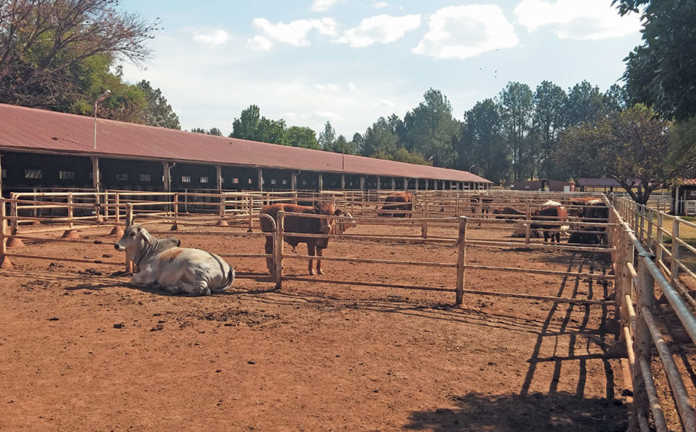 In South Africa, almost all weaners are produced on the veld, and about 75% of beef produced is from weaners rounded off in feedlots.
These animals almost double their weight during their period in the feedlot.
With feed making up about 75% of production costs, and the cost of feed increasing relentlessly, post-wean growth is crucial in feedlots.
To put it simply, efficiency is key – farmers are being forced to produce more from less.
At the same time, there is a market for veld-produced beef, so growth performance under these conditions is also important.
There is thus a need for both intensive and on-veld testing of bullocks.
Feed conversion ratio
The less feed needed to increase the live body weight of an animal by one kilogram, the more efficient that animal is seen to be, and, of course, the more profitable, so the feed conversion ratio (FCR) is the key factor.
FCR is a combination of two traits – growth rate and feed intake – and is a good indication of how efficiently an animal can produce meat from feed.
Residual feed intake
Residual feed intake (RFI) is the difference between actual and predicted feed intake. The latter is an animal's maintenance requirements in relation to its body weight and growth.
Improving RFI reduces costs, as more efficient animals are selected for.
RFI is independent of body weight and average daily gain, but correlates positively with feed intake.
In cows, improved feed efficiency is of particular importance, as up to 65% of feed is used to meet mature cow maintenance requirements.
Convenient Testing of RFI and FCR
The Agricultural Research Council has five centralised growth testing centres across the country.
These have the capacity to assess young bulls' post-wean growth and daily feed intake under standardised, and scientifically controlled and managed environments. The service is available to any beef producer.
Testing involves feeding the bulls, for 84 days, an ad lib, high-protein ration containing more than 20% roughage, specially formulated to optimise the bulls' growth in order to evaluate their economically important traits.
The bulls are evaluated primarily for their FCR and RFI. Their body measurements (height, length, scrotum circumference, and skin thickness) are also recorded.
An RFI value is easy to interpret. An animal with low or negative RFI values is more efficient than one with high or positive values. Thus, a calf with a value of -1,5 will consume 1,5kg less per day than all the animals in its contemporary group.
Once these tests are completed, real time ultrasound is used to assess indicators of the animal's carcass characteristics, including beef yield, and intramuscular and subcutaneous fat.
Because both FCR and RFI are heritable, breeders can select for these traits.
The drive for a lower carbon footprint
There has been increased interest in, and demand for, assessing FCR and RFI at bull test centres over the past two years. This is undoubtedly due to the financial imperative of more efficient production.
Yet research has shown another compelling reason for increased feed efficiency: it is associated with a reduction in emission of greenhouse gases from ruminants. In short, more efficient animals have a lower carbon footprint.
Lower prices
As the ARC's RFI and FCR tests have grown in popularity, the costs have come down, enabling more and more producers to take advantage of these services.
The five ARC bull testing centres have been located to ensure that farmers in all provinces can access the services. They are in Irene in Gauteng, Bloemfontein in the Free State, Vryburg in North West, Cedara in KwaZulu-Natal, and Elsenburg in the Western Cape.
The last is run in conjunction with the Western Cape Department of Agriculture and Wes-Kaap Bultoetssentrum.
For more information, email Johan Binedell at [email protected].