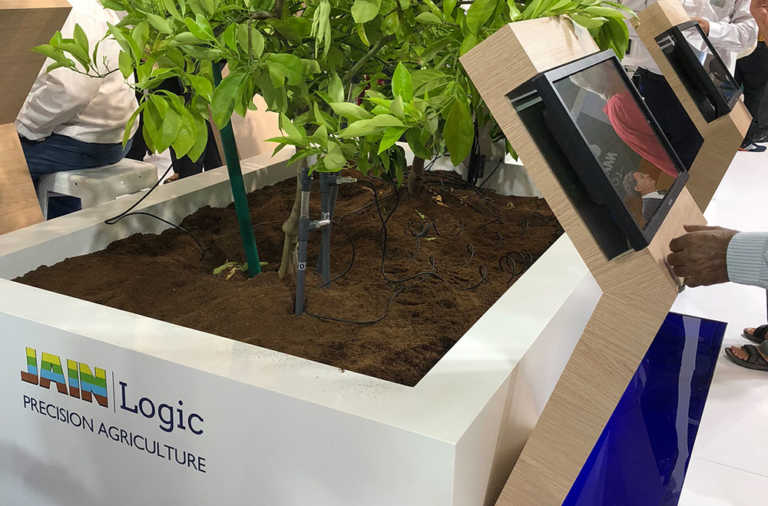 For many farmers around the world, high demand, low profitability and dwindling access to natural resources make the environment in which they have to operate tougher by the year.
In order to provide enough affordable food for the world's fast-growing population, and at a time when increased climate volatility is affecting water availability, farmers have to invest in technology that makes the most of every drop of water used.
World-leading method
Israel has gained renown for developing irrigation systems that increase the efficiency of water use in agriculture per ton of output or hectare irrigated, and many farmers across the world have benefitted from implementing this technology.
Water use in Israel's agriculture sector decreased almost continuously from the mid- 1990s to the early 2000s, according to the UN's Food and Agricultural Organization and Organization for Economic Co-operation and Development's 'Agricultural Outlook 2012-2021'.
Agriculture's share of total water use fell from more than 70% in 1980 to 57% by 2005, and is projected to drop to 52% by 2025, notes the report.
The technology on show at Agritech Israel 2018 in Tel Aviv in May proved that Israeli companies continue to be some of the top innovators in agriculture, although they are no longer alone at the top.
Data-driven solutions
Technology currently being developed for agriculture is no longer aimed only at immediate Irrigationimprovement of resource use.
The collection, analysis and application of data plays an ever-greater role. Israel's digital farming company Phytech (phytech.com) provides farmers with real-time recommendations that help them to increase crop yields while decreasing resource inputs.
"Phytech's machine-learning capabilities identify water stress by means of direct plant monitoring and is the most accurate way to make irrigation decisions," says the company website.
The system uses dendrometers, which are sensors that measure fluctuations in stem and fruit diameter, to continuously monitor plant and fruit development.
Data collected by the sensors is shared on Phytech's proprietary Internet of Things platform, and analysed by software to manage water stress.
Alerts are then sent directly to a farmer's mobile and web platform, enabling him or her to better manage the farm's irrigation system.
The technology can already be applied to maize, cotton, almond, citrus and apple production.
Monitoring soil moisture
Jain Logic from India's Jain Irrigation Systems delivers real-time data on soil moisture from sensors in the land to any device connected to the Internet.
"Soil moisture monitoring provides valuable information about what's happening below the surface of the soil," the company states.
The software that processes the raw data from the soil moisture sensors creates easy-
to-interpret charts and other useful information that can help farmers ensure that irrigation provided to a crop will meet its needs without wasting inputs.
"Jain Logic spent over a decade going beyond simply providing data," says the company.
"Our system goes a step further to analyse the data, then put it in a format that helps our customers better manage resources and increase crop yield."
The system can also be used to schedule irrigation weekly.
Smarter drones
To fully unlock the value of drones in agriculture, farmers need user-friendly support systems that can help them decide what data to collect, how to store it, how to analyse it, and, ultimately, how to apply the information gathered in a practical way.
Established in 2016, Israel's Agridrones Solutions (agridrones.co.il) developed its drones and accompanying software by first analysing the needs expressed by farmers.
According to the company, its unique drone-based solutions now cater to a variety of agricultural requirements by offering a range of applications and different carrying capacities on the drones.
For example, Agridrones's unmanned aerial vehicles have normalised difference vegetation index (NDVI) capabilities. This improves productivity in integrated crop management as it can identify specific areas of vegetation in a land that are experiencing stress.
Drones can, of course, also provide economical and efficient autonomous spraying in all terrain and weather conditions.
For more information, visit agritechisrael.org.