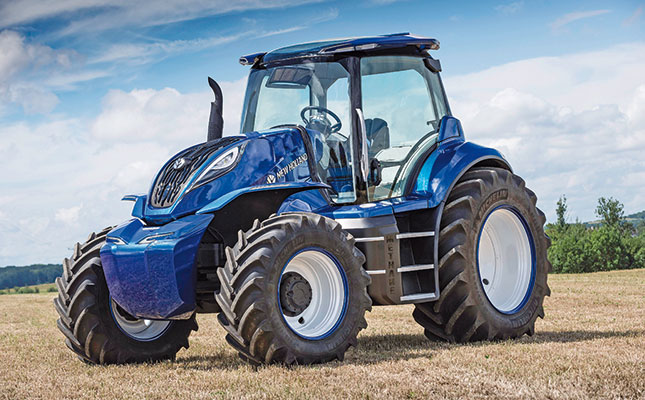 New Holland's methane-powered concept tractor has garnered the unusual and prestigious Good Design Award for its new approach to tractor design that places it at the forefront of alternative fuel technology in agriculture.
The award is awarded jointly by the Chicago Athenaeum: Museum of Architecture and Design, and the European Centre for Architecture Art Design and Urban Studies.
"The concept tractor pushes the boundaries of alternative fuel and agriculture technologies to deliver a cutting-edge solution for sustainable and efficient farming," says New Holland brand president Carlo Lambro.
With this concept tractor, the design team reimagined tractor styling, creating a fully integrated bonnet, front, rear fenders and fuel tank design.
Pioneering power plant
The six-cylinder NEF methane engine uses ground-breaking combustion technology developed for agriculture applications by FPT Industrial, leaders in natural gas traction for more than 20 years.
It delivers the same power and torque as its standard diesel equivalent, but with savings on running costs of up to 30%, and a 50% reduction in drive-by noise.
Under actual working conditions, the methane-powered tractor produces 10% less carbon dioxide and 80% less overall emissions than a standard diesel tractor. And its environmental performance is dramatically improved when running on bio-methane produced from crop residue and waste from farm-grown energy crops. In fact, using this fuel results in virtually zero carbon dioxide emissions.
All-round view
Wrap-around glazing and a floating glass domed roof provides an agricultural first: completely panoramic, 360° visibility from the cab. This combines with a fully integrated Precision Land Management receiver to offer absolute control of all field operations.
The interior provides a clutter-free operating environment, with all essential controls on the integrated armrest and additional parameters controlled through the interactive headliner display.
Joe Spencer is the mechanisation editor of Farmer's Weekly.