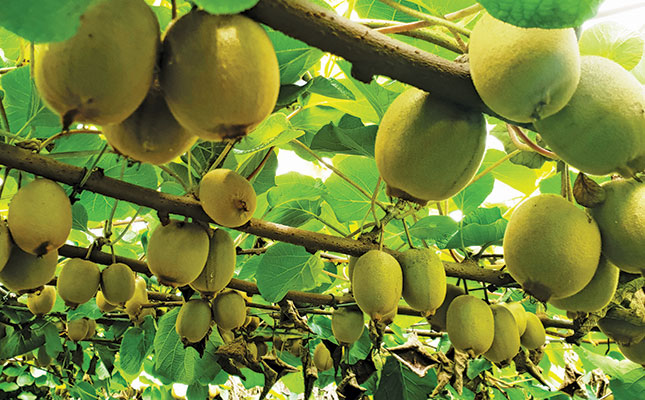 It was just over two years ago that Farmer's Weekly first published a story on the early stages of Peter Nicholson's pioneering foray into gold kiwifruit production in South Africa.
At that stage, Roselands Farm in KwaZulu-Natal's temperate Richmond area had only 10ha of immature three-year-old gold kiwifruit orchards under hail netting.
Nicholson was then expecting a yield of between 1t/ha and 2t/ha from his first harvest, a figure far below the yields of up to 70t/ha being achieved in some of New Zealand's established commercial orchards.
Nicholson, who has persisted with his vision to become a successful commercial gold kiwifruit producer in South Africa, is hoping to harvest 20t/ ha in March from his five-year-old orchards.
"The international demand for gold kiwifruit far outstrips international supply, so farm gate prices can be exceptionally profitable," he says. "In 2018, the average back-on-farm return for New Zealand gold kiwifruit growers was NZ$138 000/ ha (about R1,3 million/ha)."
Another attraction for Nicholson was that once his existing and planned gold kiwifruit orchards reached optimal production, he could begin exporting during the annual February and March lull in international gold kiwifruit supply, thereby achieving top prices for his fruit, particularly in Europe and Asia.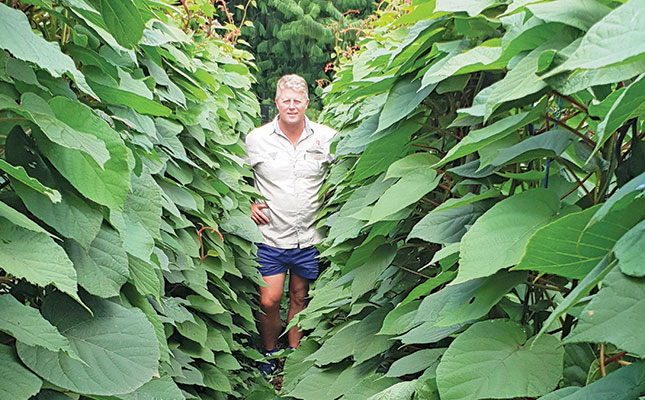 He explains that South Africa's longitude in relation to New Zealand, which is currently the Southern Hemisphere's only major gold kiwifruit producer, opens this four- to 12-week window for South African gold kiwifruit growers to harvest and export their fruit during the global undersupply.
Large areas of South Africa's interior are suitable for gold kiwifruit production, as the vines can tolerate temperatures as low as -15°C in midwinter.
Roselands Farm, at about 1 200m above sea level, with a long-term average annual rainfall of 1 300mm, maximum summer temperatures that rarely reach above 34°C, and minimum winter temperatures of around -1°C, meets most criteria for production.
Natural soil habitat
"I've learned that having healthy soils is critical for strong gold kiwifruit vine growth," says Nicholson.
"While my farm's Kranskop and Inanda soil types can be highly productive with good management, in their almost virgin state their nutrient levels are insufficient for optimal production and are highly acidic due to the historically high rainfall here. I began focusing on gradually correcting imbalances, and I can see that the vines are responding positively."
Nicholson is a staunch supporter of regenerative agriculture. Ahead of transplanting his 12-month-old grafted gold kiwifruit vines from nursery to orchard in the warm, wet spring and summer months, he sends soil samples to Brookside Laboratories in the US for analysis.
He then evaluates the results with his South African-based Brookside Laboratories consultant, Rory Milbank, as well as a soil scientist in New Zealand to determine the corrections that need to be made.
Given the long productive lifespan of a kiwifruit vine (some New Zealand specimens are reportedly over 100 years old), the soil around its roots needs to be properly managed to ensure that the vine continues to produce a top yield of good quality.
Twice a year, therefore, Nicholson sends soil and leaf samples from his older orchards to Brookside Laboratories.
To achieve a soil pH of around six, Nicholson applies an average of between 1t/ha and 3t/ ha of dolomitic or calcitic lime a year to the surface of the soil. As Roselands' soils are naturally deficient in phosphorous, he surface-applies rock phosphate at a rate of about 500kg/ha before transplanting.
This is then disked, along with animal manure such as chicken litter and kraal manure, into the orchard soil.
Manganese and selenium are also naturally deficient in Roselands' soils. To address this, Nicholson applies these micronutrients at recommended levels throughout the year via broadcasting, foliar spraying and micro-jet irrigation.
When transplanting young vines into shallow, hand-dug pits in the orchards, about 250g of bone meal is mixed into the soil of each pit. While expensive, bone meal is an excellent slow-release source of calcium, phosphate and trace elements that are "everything a young plant needs to get a strong start", according to Nicholson.
Forest floor leaf litter
"While I rely heavily on the results and recommendations from soil sample analyses, one important thing that I do based on my own research is to gather leaf litter from my commercial forestry plantations and use this as organic mulch around the bases of the kiwifruit vines, both the newly planted and established ones," Nicholson says.
The mulching protects the soil around the base of each vine from direct sunlight, which can bake the soil and its beneficial earthworms and microbes. It also shades out weeds, promotes the penetration of rain and irrigation water into the soil around the roots, and helps the soil retain it.
"In New Zealand, average yield on mature gold kiwifruit vines is 40t/ha to 60t/ha, and I'm confident these figures can be achieved in South Africa. We also have longer sunshine hours than New Zealand, so the eating quality of our fruit should be better, with more sugar," he says.
Once transplanted, the vines need regular small applications of nitrogen to boost their physical growth so they can be trained and tied down onto the pergola system in each orchard.
Nicholson applies granulated limestone ammonium nitrate (LAN) every two weeks during the spring and summer months, when the vines are out of dormancy and in their growth state.
For the recently transplanted vines that still have relatively small root systems, he applies 25g of LAN by hand to the soil around the base of each young plant.
For the mature orchards where each vine's root system can have a radius of 2m or more, he uses an orchard tractor-mounted fertiliser spreader to broadcast recommended soil corrections such as monoammonium phosphate (MAP), LAN, potassium sulphate and ammonium sulphate over the soil surface.
Nitrogen can be overdone
"Good-quality gold kiwifruit can be kept in cold storage at 1°C for four to five months after harvesting," explains Nicholson. "However, you have to be very careful not to overapply nitrogen when the vines are in fruit production because an excess can lead to significantly reduced shelf life.
"I've also been trialling semi-organic fertilisers produced by Atlas, which are showing very good results. What I like is the fast release from the inorganic component of the fertiliser, which is then followed by the slow-release organic element. So the vines always have nutrients."
Nicholson plants multi-species cover crops in the 4m-wide inter-rows. He says these mixed cover crops naturally stimulate beneficial soil biodiversity and improve soil structure and fertility.
Radishes and turnips help to break soil compaction, and deep-rooted chicory draws nutrients up from lower down in the soil profile. The cover-crop seed mixture, comprising legumes, chenopods, brassicas, grains and grasses, is planted at rates recommended by the relevant seed companies.
More organic matter
"It's essential for the soil to have some form of living or dead organic plant cover at all times," stresses Nicholson.
The cover crops also provide winter grazing for a beef herd once the gold kiwifruit vines are tall and strong enough not to be damaged by the animals moving through the orchards.
This grazing provides a number of benefits: the cattle's hooves compress organic plant matter into the soil, and their dung and urine speed up the recycling of nutrients from the cover crops into the soil for the soil life and vine roots to feed on. Cover crops and weeds not fed on by the cattle are mulched using a tractor-mounted mulcher.
"By incorporating cover crops, mulch and livestock into my management plan, I'm able to reduce my requirements for potentially harmful inorganic fertilisers," says Nicholson.
"By using more natural orchard management methods, the vines are healthier and more naturally resistant to pests and diseases.
I haven't needed to use pesticides and herbicides that may cause harm to the environment, my staff or the consumers of my fruit."
Phone Peter Nicholson on 082 457 1614, or email him at [email protected].