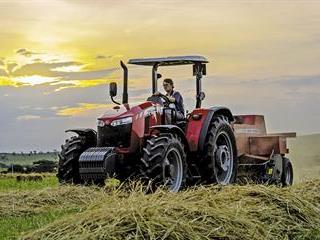 Farm mechanisation as a key driver for growth in African agriculture was the theme of AGCO's 'Vision of the Future' held in Zambia recently.
With about 100 machines on show, this was the largest display of Massey Ferguson (MF) farm machinery staged in Africa for many years, according to Thierry Lhotte, the company's vice-president of marketing for Europe, Africa and the Middle East.
"Our emphasis is firmly on the new generation of farmers, farm workers and agribusinesses and their vital role in advancing the future of African farming," Lhotte said at the opening.
MF 5700 Series
One of the highlights of the event was the first appearance of the new 69kW and 76kW MF 5700 Series on the continent. This completes the Massey Ferguson Global Series of non-cab tractors, which now provides a full range of tractors from 62kW to 98kW.
"The MF 5700 Series offers a strong workhorse across a full range of applications, providing greater performance in a modern, straightforward design, low cost of ownership and enhanced reliability, attributes already proven with the MF 4700 Series and flagship MF 6700 Series," said parent company AGCO in a statement.
Dependable power
The MF 5700 Series provides dependable power, enabling it to be the primary cultivation tractor for crop-growing, while offering the versatile transmission and operator comfort required for haulage operations such as transporting sugarcane. Key features include:
A completely new four-cylinder, 4,4-litre turbocharged AGCO Power engine. Massey Ferguson has been benefiting from the reliability, high performance and low fuel consumption of AGCO Power engines for more than 25 years. The basic MF 5700 engine shares many features with the unit used in the MF 4708, but is designed for the greater output required for this power sector, while complying with Tier 2 emissions levels. Developing high torque, these low-revving engines provide high performance with low noise and enhanced fuel economy.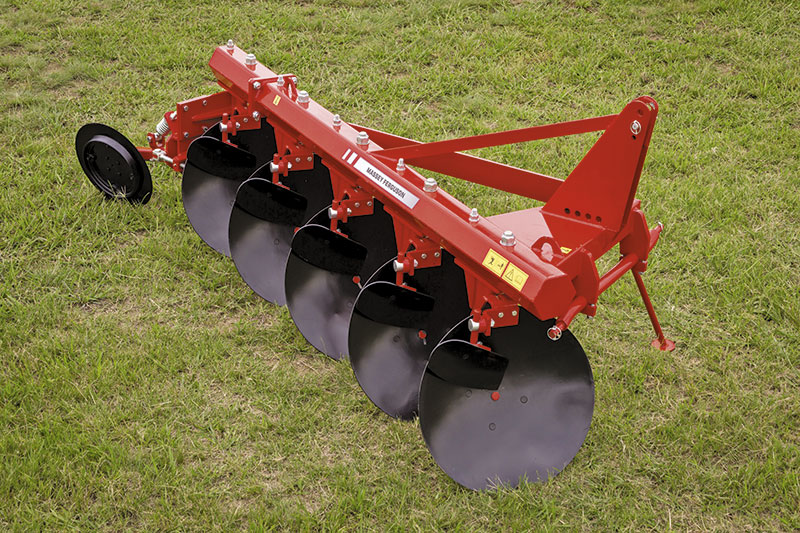 The MF FD4-28 disc plough.
The versatile 12F x 12R synchromesh gearbox. This follows the same principles encapsulated in the design of the 8F x 8R transmission used in other Massey Ferguson tractors, with good gear spread, simple, logical gear selection and efficient transfer of power. The 12 speeds are laid out over two ranges, giving six gears in each. "This is of particular benefit in haulage tasks as it reduces the requirement to change range between field and road when pulling away with a laden trailer, further enhancing output," the company notes.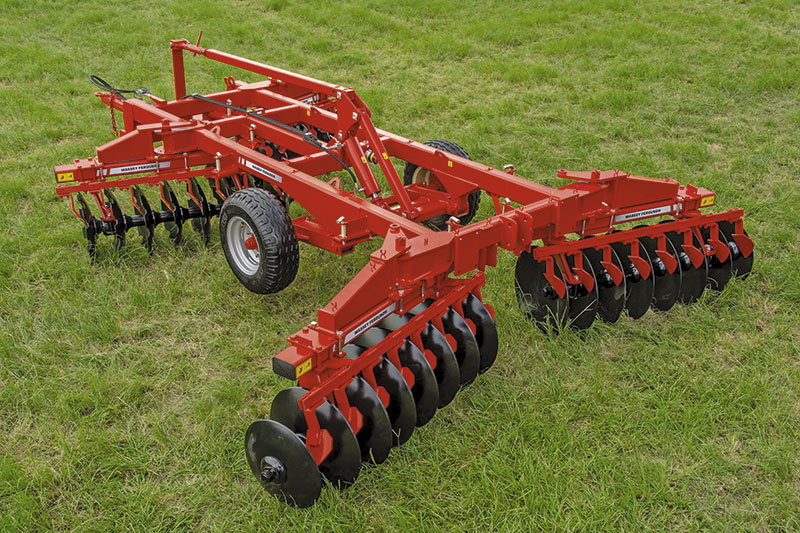 The MF TD30- 26T tandem disc harrow.
An optional power shuttle. This makes the MF 5700 tractors ideal for applications requiring constant changes of direction. Optional factory-installed creep gears provide forward speeds as low as 200m/h.
Flexibility. Designed to work with a range of implements and attachments, the MF 5700 Series offers 540rpm independent power take-off operation and a 35mm x six-spline output shaft.
A new rear axle installation. This incorporates larger, heavier-duty castings to cater for the increased loads demanded of tractors in this power sector, and includes electro-hydraulic differential lock engagement for easy operation.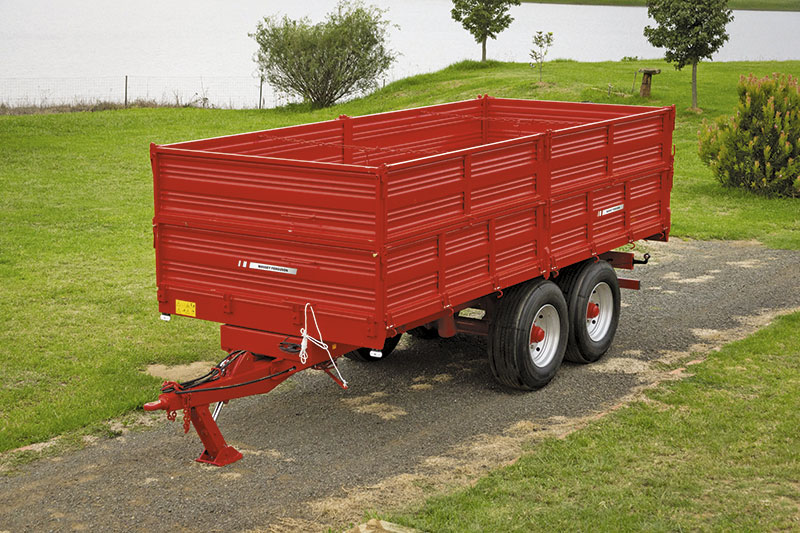 The MF TT12 trailer.
Available with a 2WD or electro-hydraulically engaged 4WD front axle with centre drive shaft and hydraulically locked differential.
A maximum lift capacity of 4 300kg and Massey Ferguson Electronic Linkage Control system. These make the MF 5700 the perfect partner for high output tillage and seeding implements.
170l fuel tank.
Ergonomic operator station with side-mounted gear levers and clear floor area.
ISO-mounted flat floor platform accessible from both sides.
New Massey Ferguson Implement range
To offer its customers a 'one stop shop' for all their machinery requirements, Massey Ferguson launched a complete range of implements at the event. The company's new line consists of a range of more than 100 agricultural implements for a variety of requirements, and complements the company's existing range of planters and drills. The implements are ideal partners for the MF 35, MF 200, MF 300, MF 400, MF 5700 and other tractor series.
Among others, the range comprises:
A disc plough (fixed and reversible) with two to five discs.
A mouldboard plough (fixed and reversible) from two to four furrows.
A disc harrow (mounted, trailed or tandem version) with a working width from 2m to 3,5m.
A tine cultivator with up to 17 tines.
A subsoiler with up to five legs.
A chisel (up to 3m).
Trailers from 3t to 12t.
"The implements are designed and constructed to the same high standards as the Massey Ferguson tractors," said Lhotte.
"They've been carefully selected not only to match the range of tractor power available, but meet the farming needs of agricultural businesses in Africa and the Middle East."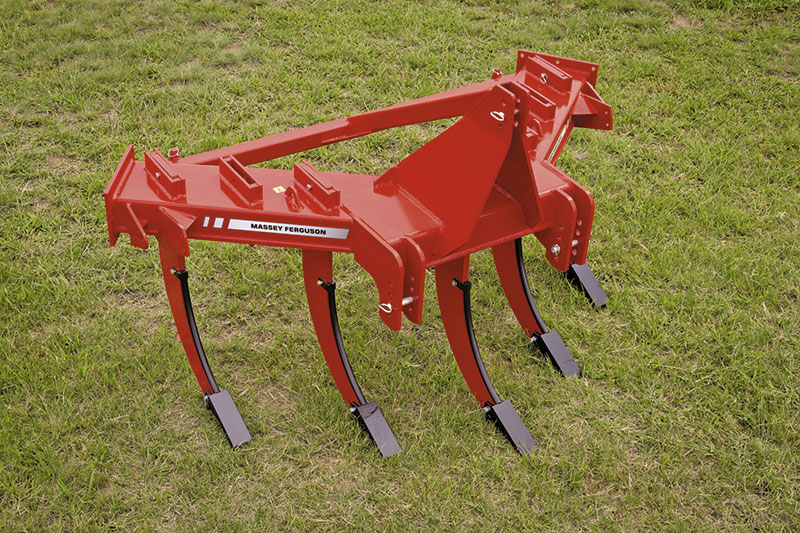 The MF S5 sub soiler.
For more product information visit www.masseyferguson.co.za.