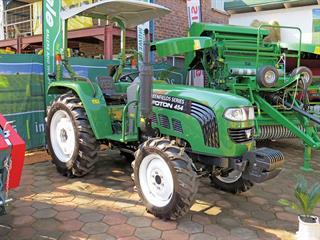 A recent survey by Agrilevente, an international forum of agricultural machinery manufacturers' associations, puts the number of tractors currently in use around the world at 34 million. Of this, 39% are found in Asia, 36% in Europe and 22% in the Americas. Africa has 1,5% of the world total, the same percentage as Oceania (Australia and New Zealand).
Based on Food and Agriculture Organisation data, this estimate of the global tractor inventory is certain to increase substantially in the coming years due to the strong growth in demand for land cultivation technology. The survey also
highlights the importance of emerging markets such as India, where 2014 ended with sales of around 620 000 units, the highest in the world. China came next with new tractor sales of about 500 000 units.
The surge in tractor production in these and other Asian countries is reflected in the many models available on the SA market:
Foton: Greenfields
Agricultural Holdings launched Foton tractors in this country almost 10 years ago and the smaller 18kW 254 and 33kW 454 (seen here) have proven particularly popular. China's Shandong Foton Heavy Industries can build up to 150 tractors a day. This means it could supply the entire SA annual tractor market in about seven weeks!
Chery: Dicla Farm and Seed introduced the Chery range from China at last year's NAMPO. Seen here is the Chery RD254-A.
YTO: The YTO 1254 seen here has a 7,7-litre engine rated at 92kW. SA distributor VB Agri is currently testing the 112kW YTO 1504. The Chinese company has been manufacturing farm equipment since 1955.
Farmtrac: The Escorts Company has been a major force in India's tractor industry for more than six decades. The 60-75 (seen here) and other models in its Farmtrac range are distributed in South Africa by Dicla Farm and Seed.
TAFE: Tractors and Farm Equipment Limited (TAFE) claims to be the third-largest tractor manufacturer in the world and the second-largest in India by volume, supplying 25% of that country's tractors. It has had a relationship with the AGCO Corporation for 53 years and produces tractors under three brand names – TAFE, Eicher and Massey Ferguson – exporting to more than 75 countries. Seen here is the TAFE 45 DI.
Jinma Tractors: Jinma tractors are built in China by the Mahindra Yueda Tractor Company, a joint venture between the China's Jiangsu Yueda Group and India Tractor manufacturing giant Mahindra & Mahindra. They are imported by Jinma Tractors SA, and the local model range extends from the 18kW Jinma 250 to the 60kW 4WD Jinma 854. Seen here is the Jinma 800.
TYM: Greenfields has added a new brand, TYM, to its range of tractors. The first model available is the 75W-rated TYM T1003, built in Seoul, South Korea.