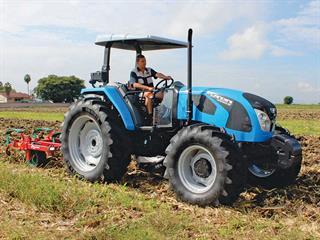 Landini Landforce: Two models are available: the 82kW Landforce 115 and the 88kW Landforce 125. The electro-hydraulic PTO ensures smooth implement start-ups and the electro-hydraulic engagement of the 4WD and diff lock simplifies operation. The Landini is suitable for all general farming operations, including cultivation, transport and PTO jobs such as spraying and baling.
Foton 824S: Bright green has replaced the red livery, and the Lovol Perkins 1004 four-cylinder diesel has been uprated to 69kW. The Foton now has a synchro 16-forward, eight-reverse transmission, two-speed PTO, and two dual remote hydraulic valves.
Schulte FX1800 rotary cutter: The free-swinging blade sets move at a linear 81m/ min, throwing the crop residue into stationary fixed knives mounted in strategic positions under the deck. Shredding crop residue after harvest allows the header to be run at a higher level when harvesting. This means that less material has to be processed by the combine, permitting faster speeds and better crop separation.
Radium ProSpread spreader: Designed for medium- to large-scale farmers and contractors, the ProSpread can spread fertiliser, lime, gypsum or dry organic material at exactly the rate required.
JCB 422ZX wheeled loading shovel: A JCB Dieselmax 93kW engine with ZF axles and transmission delivers exceptional traction, digging and loading ability. The ZF fully automatic four-speed 4WD transmission senses the optimal ratio for any application. A manual gear kick-down function on the loader lever allows the operator to get extra traction. Load-over height: 3 453mm; turning radius: 5 858mm; maximum dump angle: 45°; roll-back angle at full height: 52°.
JCB 520-50 Loadall: Thanks to an overall height of only 2 120mm, this loader, with its 4,4- litre 55,9kW engine, can operate in a building with restricted headroom. Four equal-size wheels provide comfortable ground clearance and sure-footed traction and loading performance. Permanent four-wheel steering and 4WD plus compact size ensure an exceptionally tight turning circle. Maximum payload: 2t; maximum lift height: 5m; overall height: 2,12m.
Montana Twister 1500: The Twister is designed to improve efficiency when spraying fruit trees. Double cone air volutes, intake deflectors and a cast aluminium fan provide equal and uniform air distribution to each side, as well as even coverage from top to bottom with minimum losses due to drift. Power requirement is low, from 35kW to 45kW, and standard equipment includes a two-speed gearbox, handwash tank and container rinse system.
New Holland T665 loader: This is available for the full TD5 4WD tractor range and operated by a four-way joystick. The loader frame is detachable, the hydraulics are connected by one coupling and the unit is self-levelling. The roof permits visibility of the bucket even when it is fully raised. Maximum lift height: 3 199mm; lift capacity at 800mm: 1 422kg; and bucket volume is 0,584m³.
Deutz-Fahr Agrotron TTV430: The Deutz 2012 series engine, noted for its fuel efficiency, is rated at 98,5kW and the continuously variable transmission allows the tractor to reach 50km/h. The front linkage and PTO make many tasks more cost-effective as the tractor can do two jobs at once.
Deutz-Fahr Agrotron: Powered by the six-cylinder Deutz 7,1-litre engine, rated at 119kW, the Agroton 120- 165.7 is a real workhorse. The four-stage PowerShift transmission has six ranges and 24 forward and reverse gears, with a 40/40 transmission as an option. It also has a power shuttle reverser and a wet clutch.
Rovic wheat planter: The latest model Rovic wheat planter may look different but the patented double seed placement system remains an outstanding feature. New load balancing improves load carrying and depth control in difficult situations.
Rovic Leers chain delivery spreader: These lime/fertiliser spreaders can also spread dry organic matter. They have hydraulically driven spreading discs and a new gearbox for the chain drive that can be driven from the wheel or hydraulically with GPS compatibility.
Comprima baler: With its proven belt elevator system, the Comprima produces heavy bales with hard centres, thereby improving silage quality.
Kuhn Axis HEMC: Spreading width can be controlled by adjusting the drop point onto the disc rather than by altering the disc speed. This ensures even spreading in the direction of travel, qualifying it as a precision spreader. Fertiliser flow rate is controlled by hydraulic pressure-sensing and is not affected by uneven terrain. The Kuhn can be supplied with its own controller or adapted to other Isobus GPS systems such as the Trimble CFX1000.
CLAAS Scorpion 6030 Telehandler: With its compact design, telescopic boom and superior manoeuvrability and lifting ability, the Telehandler can replace the traditional tractor front-end loader, offering better performance and productivity. The Scorpion 60 and 90 series have lifting heights of 6m to 9m.
Agri Mega Week took place at the 28ha Mega Park, in Bredasdorp, Western Cape, from Wednesday, 17 September, to Saturday, 20 September.