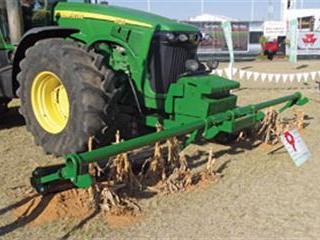 This year the 'new-look' Boerepatente competition event had only three classes: A (Open), for anyone with an idea relevant to a farming operation; B (Domestic), for ideas that make a difference around the home; and C (Machinery or Technology), for innovative designs from bona fide farmers 35 or younger.
Class A – Winner Jannie Myburgh's ingenious rake/baler combines two operations into one by placing a 12-unit finger-wheel rake between the tractor and the baler to form a windrow and bale the crop in one process.
This turns a normal two-tractor, two-driver procedure into a one-man operation.

Class B
This was won by Gerrit Smith for his mole killer. The trap is placed on the ground ahead of the mole's newest tunnel, which can be seen by the slight lifting of the soil above-ground. When triggered, an elastic-powered harpoon spears the mole underground.

Class C
Le Roux Erasmus was the winner with his simple but effective front roller system. Rollers on hinged arms fixed to a 'tool bar' mounted on the front of the tractor push down maize stalks. This prevents damage to the tractor tyres and makes it easier for the following implements to chop and incorporate crop residue.