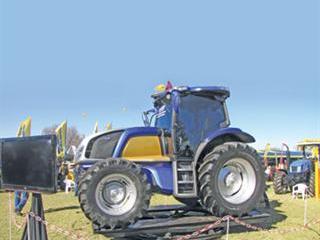 At the Nampo Harvest Day, New Holland showed off what could well be the tractor of the future. The NH² is the first hydrogen-powered tractor ready to go into service on a farm. It uses fuel cell technology that generates power to run the tractor and to operate implements, delivering the performance expected of a conventional diesel tractor of the same size, but with zero harmful emissions. The first NH² working unit is expected to begin operating this year in Italy.
Some other innovative equipment included:
A comfy option
Greenfields Agricultural Holdings is enjoying a great deal of success with JCB's WorkMax utility vehicle. And it makes good sense to fit the optional cab when you have to go to the far corners of the farm in the middle of winter. The combination of diesel power, CVT transmission and exceptional suspension means that this vehicle can go practically anywhere. So why not travel in comfort?
Cutting trees
RFR tree shear and Foton 504: Dala Muller, who designed and built the RFR tree shear, says it's capable of shearing dry gum trunks up to 530mm in diameter in about 20 seconds. It cuts wet logs quite cleanly, but shatters dry stumps, restricting re-growth. The head can be rotated 90° in order to cut vertically when sizing logs. At Nampo it was hitched to a 39kW Foton 504 that had been specially modified by Greenfields to work in reverse and also suitably guarded for forestry work. The RFR can be operated by a 28kW tractor but, obviously, work rates are much higher with the extra power and reverse drive.
Turbo Saw and Gehl Skid-steer loader: Gehl Skid-steer loaders are now marketed by Manitou and the model 6640 was fitted with the Turbo Saw Tree Cutter. The Turbo can compete with tree shears on trees up to 500mm in diameter and has a cutting rate of 75mm to 250mm per second. It can be mounted to any skid loader or tractor for fast cutting of trees or brush.
The Agromaster square baler
This conventional small square baler, from Turkey's Agromaster, makes a compact 460mm x 400mm bale with lengths adjustable from 300mm to 1 300mm and bale weights from 25kg to 35kg. The small square baler is staging a comeback after years of round baler dominance.
The Farmtrac
The Farmtrac tractor factory in India is one of the world's largest. Overall capacity is more than 100 000 units a year, of which about 30% are exported. Spares and service back-up are available from Tijbros, Farmtrac's SA dealers. From Farmtrac Tractors Europe in Poland, meanwhile, comes the Farmtrac 7100DT, which has a 72kW Perkins 1104-44T turbocharged engine and a 16 x 16 transmission with three-speed electro-hydraulically controlled PTO.
The Pichon slurry tanker
France's Pichon has been building slurry tankers for 40 years. The 2-axle range has capacities of between 7 150l and 22 700l. A variety of filling and spreading solutions is offered, together with a selection of optional equipment and accessories.

The Grazmec 1 200kg crane
Developed especially for handling big fertiliser bags with a hook or four-point cross, the Grazmec crane from Brazil has a capacity of 1 200kg, regulated by a control valve in the hydraulic system. It attaches to the tractor's 3-point linkage and uses its hydraulic power. Maximum lift height is 5,5m and the boom can rotate 45° either side. The castoring wheels, spaced at 2,4m, ensure stability.
Imported by Valtrac
Pottinger Novacat high performance disc mowers from Austria have a centre suspension and removable conditioners. Rear mounted, trailed, front mounted and mower combinations are available. The conditioner has its own chassis and can be removed by one person – a double roller conditioner for lucerne is also available. The Alpha Motion hitch-on rack for the front mower has a unique active carrier frame that controls the vertical float while adjusting the cutting angle for close cutting. Pottinger's very flat cutter bars allow the grass to flow easily over the cutter for efficient cutting even in thick grass.
The Gregoire Besson RZ7 from France is a heavy-duty plough with adjustable furrow width and non-stop automatic hydraulic re-set of the trip mechanism. It's said the slatted mouldboards fitted to this model reduce the power requirement in most soils because of the lower friction, and are proving popular with vegetable growers, because they leave a crumbled finish that can be quickly made into an effective seedbed.
A local development
Based in Koelenhof in the Western Cape, Carrotech developed the Alpha ll strip ripper to suit local conditions. The 508mm disc coulter upfront cuts through the stubble, while two 406mm row cleaners on large hubs with cup and cone bearings take it away and open up a path for the tine. The ripper tines, with a hydraulic trip system, fracture the soil up to 500mm deep, and 457mm wavy discs crumble the fractured soil and are angled to form a small ridge. A pair of paddle wheels finishes off the seedbed. The Alpha can work in combination with a trailed planter.
Donated to Weiveld School
Jumil Brazil donated this JM 2090 2-row planter to the Weiveld Agricultural and Hotel School to go with the recent donation of a Valtra tractor, and to help with expertise in the operation of farm machinery.
Wolagri balers
The Wolagri Columbia R12 and R10 round balers from the Tonutti Group in Italy have completely enclosed fixed compression chambers ensuring minimal leaf loss. The chain drive guarantees perfect rotation, even with green material. The pick-up reel is 1,5m and bale size is 155cm x 120cm on the R12 and 120cm x 120cm on the R10. Opening and closing the chamber gate, raising and lowering the pick-up reel and tying the bale are controlled from the tractor.
View our photo gallery for equipment photos.