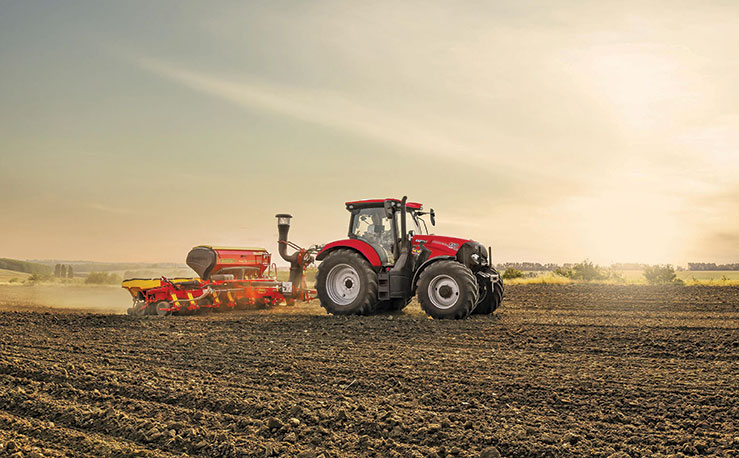 Until now, Case IH has produced only four-cylinder models in its Maxxum range, which caters for the demand for compact, light, universal tractors.
However, recognising some customers' preference for a six-cylinder machine at the upper end of this power bracket, Case IH will soon introduce an alternative to the four-cylinder 108kW Maxxum 145.
In place of the 145's 4,5-litre four-cylinder FPT engine, the new 109kW Maxxum 150 features a 6,7-litre unit sourced from the same company.
As with other Maxxum models, the 150 is available with one of three transmission options: the ActiveDrive 4 four-step semi-powershift, the ActiveDrive 8 eight-step semi-powershift (from early 2019) and the CVXDrive CVT.
Equipped with Engine Power Management, the 150 has the same 131kW maximum power rating as the Maxxum 145. However, its torque rating is greater, at 740Nm (at 1 500rpm), compared with the 700Nm of the 145.
The Maxxum 150 meets Stage IV emissions regulations using Hi-eSCR selective catalytic reduction, a maintenance-free system with no exhaust gas recirculation.
Despite its different engine configuration, the Maxxum 150 retains the same 2 642mm wheelbase and 5 137mm length as the four-cylinder models. This is likely to appeal to farmers seeking manoeuvrability and minimal soil disturbance, particularly when turning at headlands.
With an unladen weight of 5 020kg, the 150 weighs just 130kg more than the Maxxum 145.
Full tractive power across the speed range
Tractors with continuously variable transmissions can operate consistently in all soil types, regardless of the topography.
The Maxxum CVXDrive transmission variant is different in that it uses double clutch technology. This means that the change between the transmission's two mechanical ranges is seamless.
Full tractive power is available across the entire speed range, a crucial feature when operating a planter on undulating land or differing soil types.
Maxxum CVXDrive tractors are also equipped with Automatic Productivity Management (APM), another feature with particular benefits when operating on varying surfaces. By automatically reducing engine speed when it detects that less power is required – for example, on an area of lighter soil – APM significantly reduces fuel consumption and operating costs.
Super-accurate row spacing
As with other Case IH tractors, the hardware for the installation of AFS AutoGuide Automated Steering can be factory fitted.
Operated through the Case IH AFS Pro 700 terminal screen, the system can work
with a number of different signals according to the level of accuracy required. These include Real Time Kinematic (RTK) GPS positioning, with its 25mm repeatability for absolute row-spacing accuracy to reduce input costs.
Joe Spencer is the mechanisation editor of Farmer's Weekly.