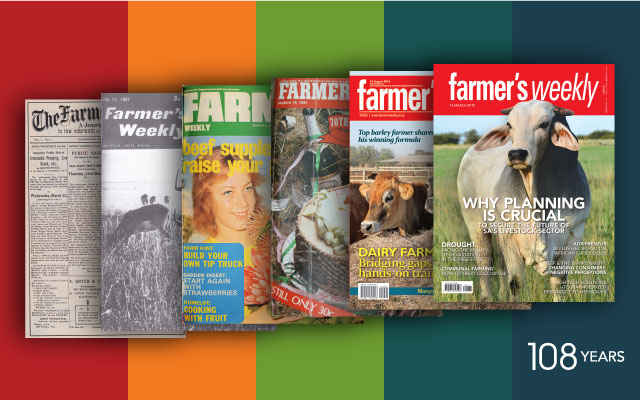 As a proud member of the South African media and agricultural landscape for the past 108 years, Farmer's Weekly is celebrating a significant milestone today.
Editor Denene Erasmus said the title's longevity and continued success was a testament to the crucial role that agriculture had played over the past century and was continuing to play in South Africa.
These were uncertain times for farmers, she said.
"I have respect and admiration for all farmers, who despite the uncertainty, still choose to invest the time, effort and resources that is required to make their businesses a success. For as long as there are farmers in this country who want to farm, and want to farm well, and in a way that continues to improve efficiency so that we can produce more, with less, Farmer's Weekly will be there to support them and take inspiration from them."
READ Former Farmer's Weekly journalist George Nicholas turns 100!
Dr Gerhard Verdoorn, operations and stewardship manager at CropLife SA, said Farmer's Weekly was about "as old as farming is in South Africa".
The publication had survived the turmoil of the political landscape in South Africa just as agriculture had survived it. It had also lived through the droughts, floods, sanctions, threats and market price woes with the South African farming community, he added.
READ Farm special: Beetroot cake
Farmer's Weekly was a household name in the country, not only in farmer families, but also in urban families where young and old savoured the informative articles and inspirational columns every week.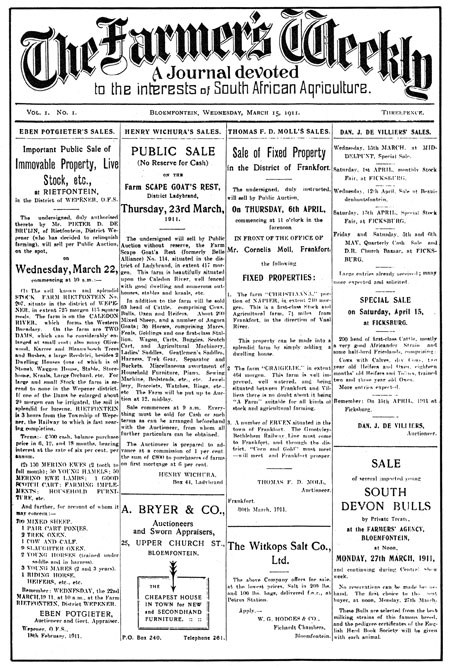 "CropLife SA congratulates Farmer's Weekly on its 108th birthday and hope that it will continue to flourish like a perpetual field of productive crops. Well done with the achievements over the past 108 years," he said.
Congratulating Farmer's Weekly on its birthday, 75-year-old Thulo Mahlatsi, a grain producer near Bothaville, thanked the magazine for its ongoing dissemination of information "without fear or favour".
"This magazine has over the decades played, and is still playing, an important role in supporting South African farmers. Well done," he said.
READ Grain SA's farmer development programme bears fruit
Since its inception, Farmer's Weekly had been the torch-bearer of agriculture in South Africa and even outside the borders of the country, Dr Japie van der Westhuizen, CEO of SA Stud Book said.
The magazine had played a decisive role in keeping the agricultural debate going and never had a political agenda. Its only mission was to serve agriculture and to remain an independent voice in the industry.
"Farmer's Weekly has served the industry with distinction," Van der Westhuizen added.
CEO of Agri SA, Omri van Zyl, said despite the changes that had taken place in the media environment, Farmer's Weekly had succeeded in remaining relevant. The editorial content of the magazine was of the highest quality, he said.
"From Agri SA's, side we have confidence in the magazine to take to take the industry and the agricultural debate forward."
Join the Farmer's Weekly News WhatsApp Group for daily news updates.