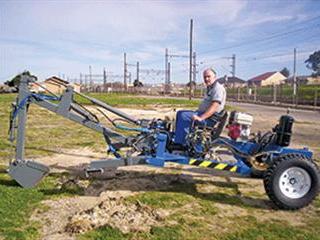 Donald Gray, the owner of DG Servicing in Port Elizabeth, specialises in the repair and maintenance of construction and earth-moving equipment. Some time ago he saw a gap in the market for a reasonably priced small excavator.The result, developed over a few years, was the Crab mini-excavator, which won Donald an award for innovation at the Innovation Summit competition in Pretoria in 2012.
The machine uses its boom to move forward and back when trenching. It is steered by slewing the boom articulation joint from side to side, which allows sideways movement as well. The machine can dig sand, gravel, clay and some rock formations (depending on the operator's skill). Bucket widths range from 200mm to 350mm, but special sizes can be manufactured to suit the client's needs.
It weighs 900kg, with a digging depth of 1 800mm. Bucket digging force is 1 489kg and maximum reach is 3m. Competitively priced at around R90 000 (excl VAT), the Crab is designed with ease of maintenance in mind with as many 'off the shelf' items as possible, ensuring minimum down time.
Superb stability
The Crab has two independently operated front stabiliser legs and a hydraulically operated tilting rear axle arrangement. This means that the machine can be set firmly level, even on slopes. The hydraulic tank is incorporated into the machine's steel frame, allowing the hydraulic oil to remain cool as it flows through the system.
Thoroughly tested
Final testing was done over six months at St Albans outside Port Elizabeth. The Crab dug out a farm dam, holes for septic tanks (below), a lot of trenching for water pipes (above) and electrical cables. It proved the ideal tool for these tasks. Enquiries have already been received from the small mining sector in Angola, Zambia and Zimbabwe. The first two machines were bought by a Bloemfontein company commissioned to do trenching and pipe laying for rural development. It had considered a second-hand TLB, but saw better value in purchasing two new Crab mini-excavators.
Easily moved
On-site, the bucket and boom can be lowered into the back of a bakkie or hooked onto the linkage drawbar of a tractor, and the machine becomes a trailed unit. This makes it extremely easy to move around. On public roads the machine can be transported on a small trailer or 'roll-back' recovery truck.