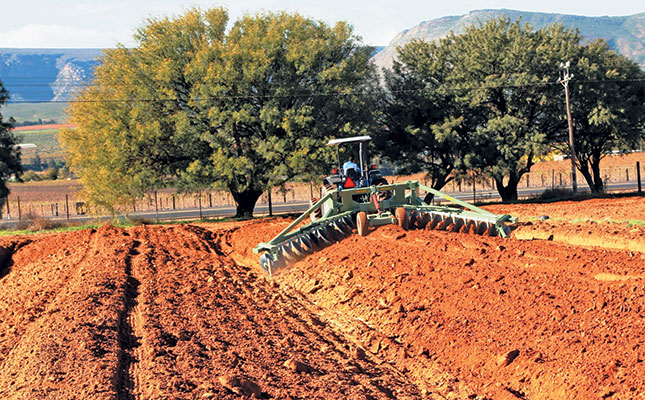 Erdvark Engineering, based today in Klawer in the Western Cape, has been manufacturing ploughs, harrows and related implements for more than 60 years. Amongst its innovations is a maintenance-free bearing system, claimed to be one of the best in the world, used in its specialised disc implements for cultivating new crops. The company is a major exporter into Africa.
The Erdvark ridger
In response to requests from nut and fruit growers, the company has developed a sturdy implement for building the ridges on which the trees are planted. Good pre-preparation is required before building ridges. The entire area must be ripped – even cross-ripped if required – and slopes planned so that  the ridges can cope with stormwater runoff. The effort is certainly worth it: ridge planting improves drainage as well as the supply of moisture to root systems.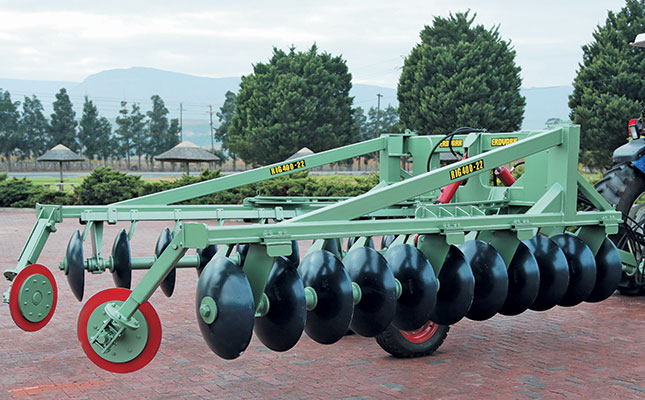 Field research by Erdvark identified the need for a range of sizes to suit various row widths. The company has therefore developed six ridger models, ranging from 5 450mm to 8 890mm. The most popular are the RIG400-22 (with a working width of 8 200mm) and the 8 890mm-wide RIG400- 24. All six models can build a ridge up to 900mm high.
Operation is remarkably simple: two hydraulic cylinders control the settings and a manual system opens the discs to the required angle and closes them for transport.
The Erdvark ridger requires a tractor with sufficient power, as a higher speed enables the discs to work aggressively and build the ridge faster than conventional construction equipment.
Trailed grader
Some farmers use the Erdvark G40A trailed grader to make a flat platform 3m to 4m wide on top of the ridge. The grader can also be used to create a path between the ridges for tractor sprayers, tractor trailer rigs and harvesting equipment.
Reversible disc
Erdvark claims that its DOS reversible disc is amongst the most versatile disc implements available. No tools are required to set the configuration – the operator simply inserts the locking pins in different holes in the connecting arms.
The DOS is ideal for rebuilding ridges and banks in orchards and vineyards, and building small ridges for vegetables. After harvesting, the disc can be reversed and used to cut stubble, incorporate crop residue and break down the ridge in one operation.
Organic fertilisers and mulching materials are used extensively in fruit and nut orchards, where the material is spread under the trees. The DOS disc can be used to place a light layer of soil, from the lower part of the ridge, over the mulch. This is performed at a relatively high speed to throw the soil to the upper levels of the ridge.
Erdvark also builds a heavier version that can be used to cut up paw-paw trees.
Joe Spencer is the mechanisation editor of Farmer's Weekly.