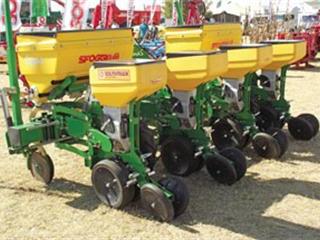 When it came to planters at Nampo, there was something for everyone, from the John Deere MaxEmerge XP to 'pedestrian planters' from Italy. Also from Italy, and imported by Southtrade, were Sfoggia planters. The Sigma 5 series ranges from four to 16 rows with a frame width of 12m. Two V-shaped discs open a furrow into which the grain is sown. Large side gauge wheels determine the exact sowing depth, while the rear press wheels firm the soil lightly for excellent soil-seed contact.
Fertiliser is applied ahead of the planter unit by a double disc coulter. The Sfoggia Sigma 5 planter is designed to operate as a minimum- or no-till planter. Another planter of note is the Agromaster two-row mechanical planter made in Turkey and imported by Dicla Machinery. It's easy to operate and can plant many types of seed with accuracy. Row width can also be adjusted. The planter is available as a four-, five- or six-row unit.
The Henkru fine seed planter
Vrystaat Trekkers markets the locally made Henkru fine seed planter. According to designer Hentie Kruger (right), it has proved highly effective in re-seeding pastures.
Easy to transport
The John Deere MaxEmerge XP 12-row stack-folding planter provides narrow transport capability and can operate in both rigid- and flex-frame configurations. The 1720 CCS has a three-section frame that can flex up to 10° up and 7° down. A significant advantage of the stack-fold system is that the hoppers don't have to be emptied when moving to another land as the bins remain vertical when folded.
Cultivating and mixing at speed
Agri Afrika imports and distributes Great Plains equipment from the US. The Series ll Turbo-Till is a versatile, vertical tillage tool that can chop aggressively without hair pinning and manage residue effectively. It also reduces compaction in a wide range of soil conditions. All these factors provide a consistent, well-prepared seedbed.
A turbo coulter, combined with rolling spike harrows, creates an even surface so the planter runs smoothly and seed is placed precisely into a firm seedbed. The Series II 3000TT has a working width of 9,14m and a transport width of 4,72m.
For vegetable farmers
These two small 'pedestrian planters', or seeders, are part of an extensive range imported from Bassi Seminatrici SRC in Italy by Staalmeester of Hartbeesfontein.