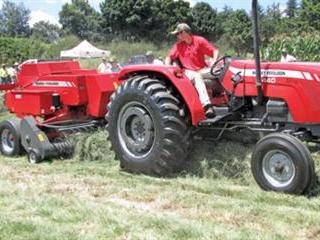 The FMS field demonstration at the Cedara College of Agriculture in KwaZulu-Natal in conjunction with Rovic & Leers offered farmers a chance to see some of the latest Massey Ferguson (MF) tractors working with various machines under farming conditions.
First up was the 34kW MF240, the smallest of the 200 series. The quality is excellent and the price very competitive. Then there was the 61kW MF440 Xtra, the smallest of the 400 series. It's a good match for the new MF1839 square baler, which has the pick-up directly in line behind the tractor. This makes manoeuvring in small lands much simpler and also results in compact, square bales, easy to stack and handle.
Rated at 74kW, the MF 455 Xtra has more than enough power for high speed mowing. This makes it ideal for Kuhn disc mowers – and the GMD700 in particular, which has a cutting width of 2,8m. The new lift and suspension system on the GMD raises both the cutter bar and inner shoe using the mower's hydraulic cylinder.
The tractor's lift arms stay at a preset height and the set degree of cutter bar 'float' is maintained. Local manufacturer Falcon also showed some products. The popular 1,5m slasher with its locally manufactured Falcon F50 gearbox was twinned with the 47kW MF268, which replaces the 265. The Uniloader, meanwhile, is Falcon's low-cost alternative to the front-end loader. The F750 can lift 750kg to a height of 3,4m, while the F1000 can lift 1t to 4,5m.
Excellent quality
Rovic & Leers is the SA distributor for the German-manufactured Krone round balers, and the new generation Comprima produces neat bales, net-wrapped for easy handling and storing. It was seen in operation with the 85kW MF5460 from the eight-model mid-range MF5400 series.
Self-propelled sprayer
Francois de Fleuriot, manager of the Pietermaritzburg branch of Rovic & Leers, introduced the new PLA self-propelled crop sprayer from Argentina. The MAP ll 2850 is the smallest PLA unit currently imported into SA. With a capacity of 2 850l, a 24,5m boom and two-wheel drive, it sells for about R1,2 million.
The top-of-the-range COSMO 4,5 with a capacity of 4 500l sells for up to R3,4 million.
For more information on the equipment mentioned in
this report, contact Auriel Mitchley at Farmer's Weekly on 011 889 0796 or email [email protected]