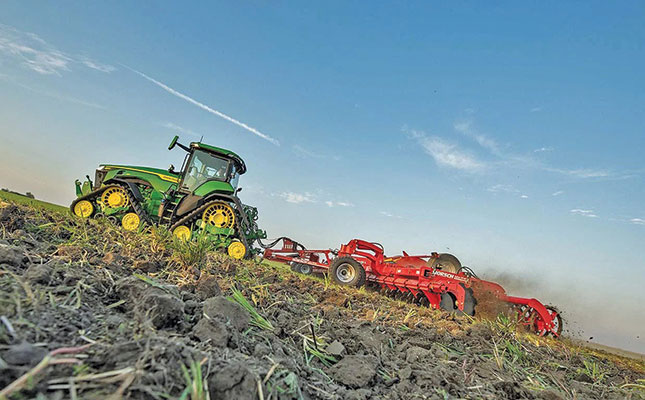 Many farmers have doubtless experienced this scenario before: you buy an implement, at great expense, capable of achieving everything you need, only to realise that your tractor does not have the ability to control the implement or make use of all its functions.
You then contact your supplier and discover that neither the implement nor the tractor manufacturer wants to take responsibility, leaving you stuck with an insurmountable problem.
This is a problem that can arise whether you buy from a specialist supplier or a company that offers a range of solutions. It is common for farmers to use a tractor of one brand in combination with an implement of another brand. In many cases there is no other option.
If these machines use different electronic systems, each implement will require an individual terminal if you want to make full use of the combination's capabilities.
These incompatible proprietary solutions, or 'island solutions', can lead to a cluttered tractor operating station.
If you'd prefer to stick with just one terminal, you may not be able to use the tractor-implement combination to its full potential.
In short, individually, both tractor and implement may offer loads of electronic features, promising economic benefits as well as convenience.
But, in combination, these features may not be available at all or may only be with difficulty, because the implement and the tractor's terminal do not speak the same language. You will then have to be content with less than you expected to get.
The Solution
The Agricultural Industry Electronics Foundation (AEF) has launched a free app enabling customers to verify compatibility between ISOBUS machines of original equipment manufacturers (OEMs). These include most of the major tractor and implement manufacturers, and more are added every season.
All the partners have agreed on ISO 11783 as the universal protocol for electronic communication. However, this standard on its own is not clear enough, resulting in OEMs releasing ISOBUS equipment that does not work across many manufacturers in the field.
This has led to the AEF developing guidelines to ensure cross-manufacturer compatibility.
At the same time, the AEF wants to end confusion about compatibility between machinery from different brands by providing customers with the relevant information before they buy a tractor or implement.
Advantages
How can you as farmer benefit from this AEF app? Firstly, cross-manufacturer compatibility is valuable information to have before going into a sales discussion.
Let's say you're looking for a new sprayer to use with the tractor you already own. With AEF's database at your fingertips, you know you do not need to buy an additional terminal to use the sprayer. But the sales representative, not knowing your tractor's capability, might say that you need another terminal!
Or when buying a tractor, you will know you can operate any implement you have with the control devices you buy, such as terminals or joysticks.
Secondly, the app allows a sales representative to know beforehand which features a farmer can expect. If you're in the market for equipment, the salesperson could then provide you with detailed information about the features you can use when you combine your existing machines with those the company is offering.
The Tools
The AEF ISOBUS Conformance Test ensures operational reliability for users and products. The test is a guarantee to users that the certified functionalities can be used in field.
The test is carried out by five independent institutes: the ISOBUS Test Center in Osnabrück, Germany; Reggio Emilia Innovazione in Reggio Emilia, Italy; Nebraska Tractor Test Laboratory in Lincoln, Nebraska, in the US; DLG in Groß-Umstadt, Germany; and Kereval in Thorigné-Fouillard, France.
All too often, farmers', dealers' and manufacturers' lack of knowledge is a source of frustration. It often takes considerable time to find answers to questions such as:
How do I find the fully ISOBUS-compatible implement for my ISOBUS tractor to make optimal use of the benefits?
Is the implement I already own ISOBUS-certified and compatible with the tractor I intend to buy? And if it is, which functionalities can I use with both of them?
Is the tractor or implement manufacturer's dealer service responsible if my ISOBUS combination does not work?
The AEF database is designed to answer these questions and benefit customers, dealers, sales and service personnel.
Download
All AEF-certified products have a label and will also be included on the AEF's database. This makes it far simpler and more transparent when deciding on the purchase of a new machine.
Make sure to verify the compatibility before committing to a transaction, or insist on a compatibility verification.
The AEF ISOBUS database is available for download from the Apple Store (iOS) and the Google Play Store (Android).
Stehan Cloete, a mechanical engineer, is the director of AgTech Africa.