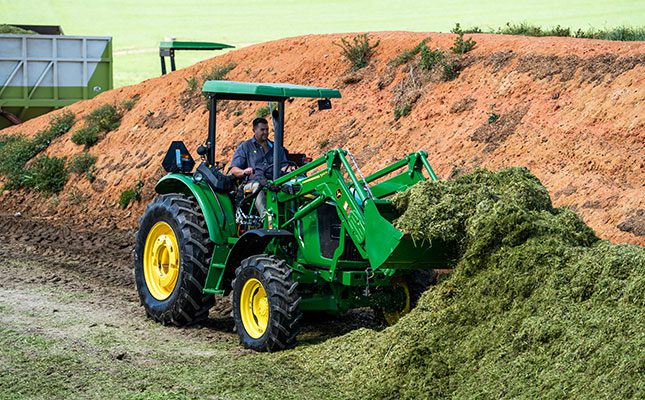 This new tailor-made, fully compatible loader solution, will greatly enhance the versatility of the 6B series of tractors. Equipped with a durable frame design, this loader is ready for the full range of loader applications in any grain, hay and forage, sugar or high value crop production system.
Lightweight and with fast cycle times, the M Series loader features mechanical self-levelling and includes a joystick with two independent functions, plus a diverter for the third function.
User-friendly and time-saving
The 540M loader's run-in stand makes it easy and safe to attach to the 6B tractor, and once the job is completed, simply unhook it from the tractor in four quick steps.  An experienced operator can perform this task in a few minutes.
The front bucket is easily unhooked from the loader frame with one accessible lever. Connecting other supplementary attachments such as bale spikes or pallet forks will further enhance the value this loader can realise for the farmer.
See it all
The design of the M-series loader is optimised for exceptional visibility when connecting implements and, during loader operation. This ensures the operator will be able to perform all tasks with ease and safely.
Easy maintenance
All bushings are equipped with grease points, and if needed bushings can be easily replaced. The hydraulic hoses are protected by running inside the loader boom, but still offers easy access to all the main hydraulic components.
Specifications
The 540M loader is available for the 6095B, 6110B, 6120B and 6135B tractors.  It comes as a complete bundle for easy installation, which includes the hydraulic valve bank and hoses, mid-frame bracket, joystick, loader frame and front bucket.
Bucket size/volume: 1 850mm/0,6m³
Lift capacity at full height: 1 720kg
Maximum lift height: 3 500mm
Optional extras that can be ordered with the loader include a hood guard, stationary fenders which are mounted to the mid-frame, and a counterweight/ballast box. All front-end attachments are available ex-factory.
The 540M is readily available and an affordable solution for all standard applications – the perfect match for the 6B four-cylinder tractor – ready to perform any loader task with ease.
Contact the nearest John Deere dealer for more information and pricing or visit: www.deere.africa