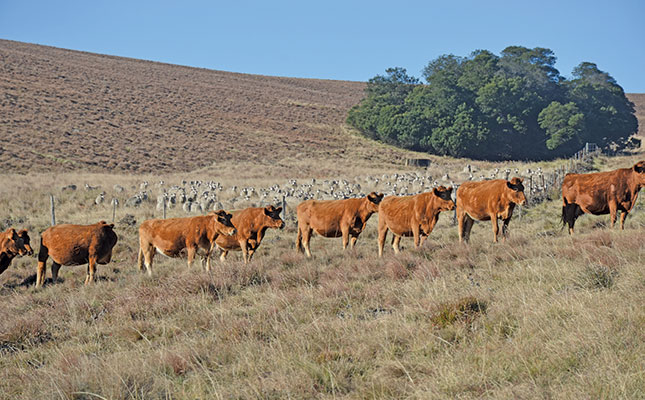 The 31-year-old Winston South Devon (WSD) stud has produced no fewer than seven Agricultural Research Council/Farmer's Weekly Best Elite Cows and six Landbouweekblad/SA Stud Book Elite Platinum Cows from a herd that today numbers
340 female animals.
This broad genetic base has also produced several South African record prices for South Devon bulls, including three in consecutive lots at the WSD 18th annual production sale on 25 August this year. On the day, JM 18 2535 'Winston Incentive' eventually beat two other WSD bulls to set a new record price of R134 000.
In addition, the stud has produced four Studbook Bull Growth Test Class and three BLUP Bull of the Year animals since 2010.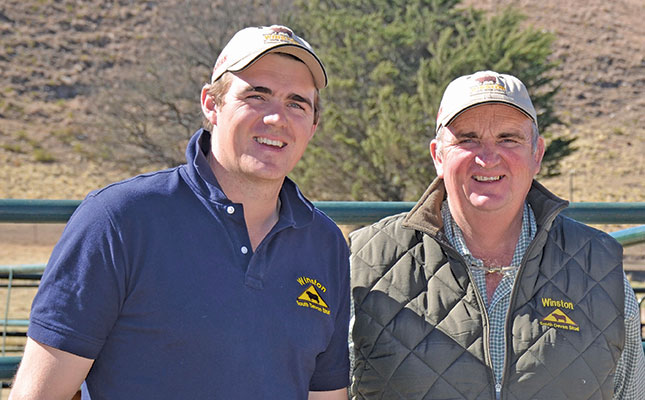 Prediction
James Miller, who returned home in 2016 to farm with his father, John, attributes the stud's success mainly to their attempts at gauging the influence of new genetics on future cows.
"While buying a bull based on the weaners we want to market, we also always strive to predict the impact that the bull's daughters will have when they start calving," he explains.
Winston cows have an average weight of 520kg at weaning and have been strictly selected to produce on the sourveld of the Klipplaat River catchment between Cathcart and Hogsback. Approximately a third are polled.
"Our main aim is to let the environment select the type of cow we need to farm," says Miller. "After more than 30 years of selecting animals based on performance under these conditions, we have well-adapted animals."
The performance of the female animals, run at an altitude of between 1 450m and 1 750m, is fine-tuned by consistently measuring traits that enhance productivity. Miller regards fertility and positive maternal and milk traits as especially important due to their direct correlation with successful calf production.
"The most scientific way to fine-tune these traits in a dam line is by effective measurement using estimated breeding values (EBVs), inter-calving periods (ICPs), weaning weight indices, weaning weight ratios, and so on. Carcass attributes and temperament are elements that I think will maximise profits in a fertile, positive maternal and positive milk herd," says Miller.
Central to the improvement of the WSD stud's overall productivity is the replacement of the least productive cows with more efficient ones. Today, top cows, including JM 07 033 (13 years old) and JM 09 068 (11 years old), which have ICPs of 367 days over 11 calves and 365 days over nine calves respectively, are supported by new generations of female animals.
These include two born in 2015 with ICPs of 349 days over three calves, and another two born in 2014 with ICPs of 357 days over four calves.
The herd also benefits from a management system designed for optimal extensive beef production. For example, all breeding female animals receive a mineral boost a month before mating and again a month before calving.
From the first frost, in-calf female animals are given a Molatek Dryveld 46 high-protein lick, which, at an average intake of 350g/ day/animal keeps female animals in condition until calving. In recent years, because of late rain, the protein lick has been augmented with energy for cows with calves at foot. However, as soon as the veld responds to the summer rain, the cows receive phosphate blocks.
Breeding
Calving takes place from 15 August to 15 November. About 75 heifers and 25% of selected mature cows are artificially inseminated (AI) with imported semen each season. Winston heifers, which traditionally calve at between 32 and 36 months, are inseminated 21 days prior to the entry of covering bulls, enabling those that take on the first cycle an extra few weeks to recover for their next mating.
For the natural breeding programme, female animals are single-sired in family groups including heifers, first and second calvers, mature cows and old cows. This strategy would not be possible without easy-calving animals. In some instances, however, female animals are multi-sired to better complement specific grazing demands; paternity is then established through DNA testing.
For the AI programme, the Millers source imported semen from bulls that are polled or known for marbling and other positive meat quality traits. AI bulls that have made significant genetic contributions to the WSD herd include Gadara Poll Zion (Australia), Elker 642 (US), Wainuka Easy 1422 (New Zealand) and Torr Down Marvel 3 (Australia).
Up to eight self-bred bulls, half of which are bred from imported semen, are used annually in the stud's natural breeding programme.
Over the years, South Devon bulls have also been sourced for WSD female animals from across the country, with the Andiro South Devon stud near Barkly East (now deregistered) and Bellary South Devons in Tweeling having been particularly influential.
Since 2016, the Eastern Cape has experienced exceptionally dry years, and Miller has been impressed by the WSD herd's response. For example, the average herd ICP since 2016 has been 390 days, with conception rates hovering between 93% and 97%. Between 96% and 97% of these in-calf female animals then went on to wean calves of 47% to 50% of their own weight.
Miller thinks there is still room for improvement. For example, with a number of heifers having calved down successfully at 24 months, he and his father have now decided to mate heifers at 14 months. To get them prepared for the demands of such an early mating, they were given a production lick during winter while running in mountain veld.
He also hopes to decrease the length of mating and related calving seasons to improve overall efficiency in the herd.
"Currently, 70% of the herd calve within the first 45 days, but the secret will be to get all calves on the ground within the first 45 to 60 days. The earlier that calves are born, the sooner the cow's recovery starts and the longer her calf can grow before being marketed."
Beef producers
Central to any beef operation is the production of weaners with growth potential, not only to ensure good performance in the feedlot, but to allow replacement heifers to grow out effectively under extensive conditions. Various tools can be used to make an informed decision on which bull to acquire to achieve these goals, but Miller emphasises the importance of performance test data.
"We run an extensive Phase D test on about 55 one-year-old bulls annually. This is a realistic illustration of a specific bull's growth potential under an extensive management system."
Over the past four years, 205-day adjusted weaner weights across the stud and commercial herds have varied between 235kg and 245kg for bull calves, and 220kg and 230kg for heifer calves. These quality weaners went on to achieve a premium from feedlots.
According to Miller, feedlot owners continually return to buy their calves and want to know where they can find more South Devons, as their performance in the feedlot has been exemplary.
"At sales where our bull buyers sell their weaners, it has been clear over the past two years that South Devon-crossed calves fetch higher prices."
He believes there is significant scope to incentivise meat quality in the weaner value chain, and carcass quality is a definite focus for the Millers. Real-time ultrasound scanning data has been used to select bulls for the past eight years.
"I'd like to see prices related to beef quality when selling weaners. One day, when meat quality fetches a premium in South Africa, I don't think we'll be far from the top."
Phone James Miller on 082 517 4887.