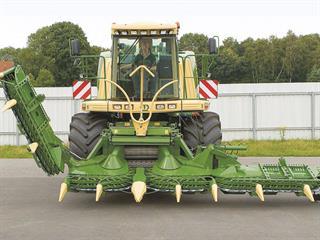 South Africa's first Krone
Big X forage harvester started work two years ago. This season, more units will be joining the harvest in other parts of the country, fitted with the new EasyCollect 753 header.
This collector has many advantages when used on a Big X forage harvester, which has step-less and hydraulic drive and infinitely variable collector speed adjustment to optimise material flow.
Other features include automatic adjustment of the collector speed to the harvester's forward speed, and automatic reversal of the header mechanism on the headland providing automatic self-cleaning.
The biggest Krone machines can harvest up to 400t/hour
The new EasyCollect 753 row independent maize header can harvest up to 10 rows of crop at a working width of 7,5m. The modular design and endless Collector layout results in a substantial reduction to the number of components and drive systems installed, thus reducing weight and the input power required.

The new EasyCollect header is lighter
The compact, flatter design makes the new EasyCollect 753 unit about 400kg lighter than its predecessor. This reduces the load on the front axle while enhancing machine ride in the field and on the road. Thanks to its flat design, the unit picks up lodged crops more easily and reduces the risk of material loss in delicate crops.