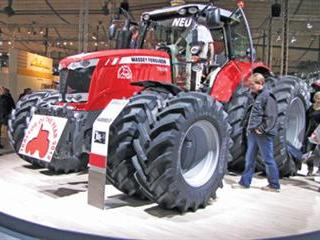 The four-model Massey Ferguson 7600 Series, which made its debut at Agritechnica 2011, took top honours in the medium to high horsepower category (135kW to 195kW) at the expo. The judges praised Massey Ferguson (MF) for pioneering selective catalytic reduction (SCR) and for the way it has improved the system with the addition of a diesel oxidation catalyst (DOC).
The judges also said the range was "typically Massey Ferguson" – that is, straightforward, dependable and easy to operate, said Florian Tschirschnitz, marketing communications manager for MF Germany. With the MF 7600 series, customers can choose the Dyna-VT continuously variable transmission, or the Dyna-6 semi-powershift with automatic changing.
"We're honoured to receive this award for the MF 7600 Series, particularly in the year we're celebrating 75 years of the famous Ferguson three-point linkage system," said MF brand development manager Campbell Scott. This system was identified as one of the world's most influential agricultural technology milestones at Agritechnica.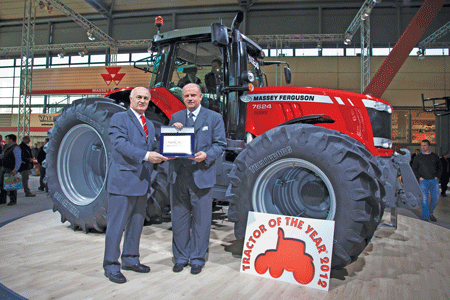 Developed by Harry Ferguson for attaching implements directly to the rear of a tractor, with weight transfer and automatic draft control, MF's famous linkage system is now used in some form by most tractor manufacturers.
"Everybody at Massey Ferguson is immensely proud of our heritage, which encompasses virtually every major innovation in tractor technology – from the introduction of the three-point linkage to being the first manufacturer to introduce SCR technology on any farm machine," said Richard Markwell, Massey Ferguson's vice-president and MD for Europe, Africa and the Middle East.

A troubled partnership
The Ferguson three-point linkage system was launched by Harry Ferguson and Yorkshire industrialist David Brown in 1936. In 1939, Ferguson formed a partnership with Henry Ford that resulted in the production of the Ford 9N. The agreement ended in 1947 with Ford's death.

The Ford Company then introduced the 8N, including the Ferguson linkage system, and allegedly infringing Harry Ferguson's patents. Ferguson duly sued Ford for $250 million. The case was finally settled in 1952, with Ferguson receiving about $9 million and Ford agreeing not to use some of the Ferguson-patented features on the Ford 8N. •FW