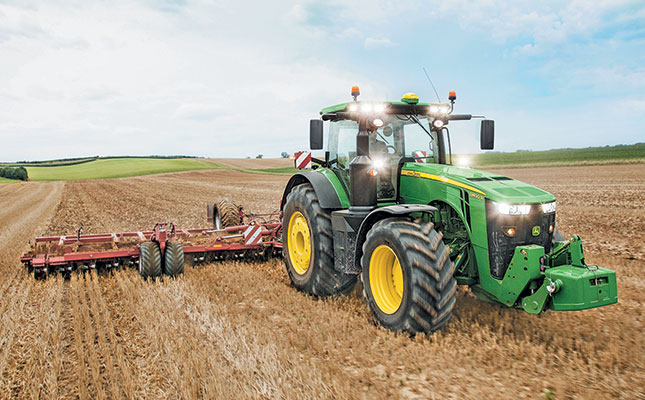 The John Deere 8400R tractor recently set three new world records for fuel efficiency (field and transport) and maximum drawbar performance at the DLG test station in Germany.
It beat its nearest competitor by almost 23% in drawbar performance, and reduced the combined fuel consumption figure for field work to only 247g/kWh. This represents a 6% increase in pulling capacity and a 2% reduction in fuel consumption when compared to the JD 8370R, the previous top of the range model.
A new John Deere 9-litre engine with Intelligent Power Management (IPM), delivering up to 337,5kW, powers the 8400R. It is also fitted with JDLink Telematics that includes Remote Display Access (RDA) and Wireless Data Transfer (WDT) linked to the MyJohnDeere.com website.
Additional new Farmsight precision farming options include a connectivity package featuring MyJobsConnect and MyJobsManager apps that enable the operator to carry out tasks in real time via a mobile device.
The John Deere 750A All-Till seed drill, available in 3m-, 4m- and 6m-wide versions, was also on display. Its field-proven Accord Air-drilling System has large clearances for no-till drilling directly into stubble and working after minimum or conventional tillage. It is also used for single-pass operations in grassland or rough pasture renovation.
Single-pass drilling offers several advantages over conventional ploughing, including lower establishment costs, reduced nitrate leaching and increased moisture conservation.
In operation, the 750A creates very little soil disturbance outside the small slot which the single disc on each opener creates. This makes it ideal for drilling into moribund seedbeds where unnecessary soil movement could lead to competitive weed seeds germinating to subsequently reduce yields.
Joe Spencer is the mechanisation editor of Farmer's Weekly.