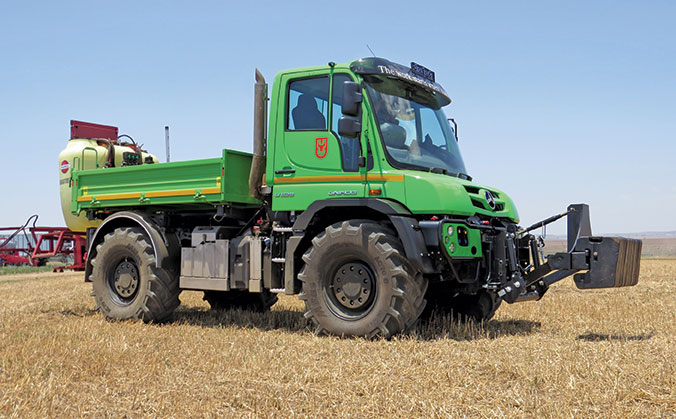 The UGE Unimog family, to which the new U529 belongs, has been on the European market for three years and is selling well.
These machines are not intended as a replacement for tractors engaged in primary tillage applications such as ripping and discing, where large tyres or tracks are required to get the power to the ground.
Instead, they are designed to fill the niche where power-to-weight ratio, speed and
versatility are crucial elements.
The UGE Unimog buys that critical element, time, by performing tasks not requiring massive drawbar horsepower much faster than a conventional tractor, using significantly less fuel while doing so.
The German Agricultural Society has found the Unimogs to be more fuel efficient than standard tractors in about 70% of agricultural tasks.
This versatile vehicle can be used for manure/fertiliser spreading, high-speed haulage, crop spraying, mowing, raking and baling, silage harvesting, hauling the combine chaser bin when harvesting, or as a fire-fighting unit.
The U529 is powered by a 210kW six-cylinder, 7,7- litre Mercedes-Benz OM 936 Euro 5 engine equipped with a compression brake.
At 1 150N.m, torque is highly impressive from as low down as 1 150rpm. The U529 also has permanent all-wheel drive with driver-selectable centre and cross-axle differential locks.
The central tyre inflation system makes it possible to inflate or deflate the tyres while
the vehicle is moving. This improves traction on the land while simultaneously reducing
compaction and wheel spin.
When in transport mode, the tyres can be inflated on the move to highway pressures, improving fuel economy and vehicle handling.
The powerful two-stage auxiliary engine compression brake, usually referred to as
a 'Jake brake' in South Africa, together with full air braking and air trailer brakes, make the
unit safe for public road use.
A comfortable, practical cab
The cab has high levels of comfort, safety and visibility. It offers a perfect view of
front-mounted equipment, and what appears to be the rear-view mirror is actually the
screen for up to four remote cameras. This eases the task of hitching and monitoring
rear-mounted implements.
Equipment, hydraulics and drive functions are controlled by the multi-function joystick. The lighting package includes work lights and roof spotlights.
Joe Spencer is the mechanisation editor of Farmer's Weekly.