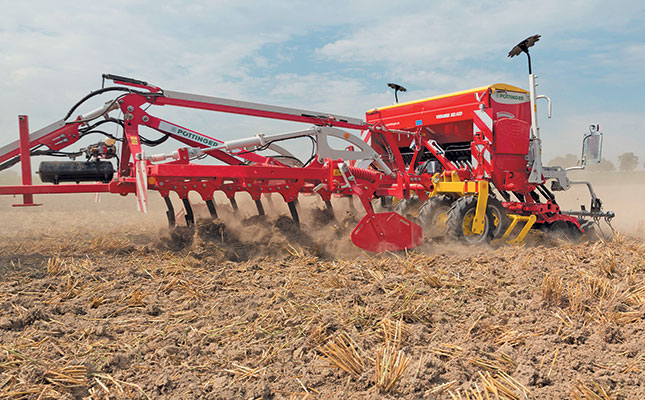 Available in working widths of 3m and 4m, the Pöttinger Multiline can be used solo or as a combination, and requires only a relatively small tractor.
The basic unit is a Terradisc compact disc harrow or Synkro 3030 stubble cultivator; both work in combination with a new tyre packer.
The implement is trailed from a drawbar attached to the tractor linkage. Combined with the seed drill, the Multiline offers practical and economical technology for mulch-seeding.
Terradisc
The Pöttinger Terradisc features the Twin-arm system, which has proven to be an effective soil cultivation arrangement.
It has two scalloped discs mounted on each wide clamping bracket. These large 580mm discs are spaced 125mm apart, and set at an aggressive angle for effective penetration.
Synkro
The Synkro stubble cultivator has arc-shaped legs with two settings to ensure the optimal working angle. Chisel points with separate wings are standard, and the narrow point spacing of 270mm ensures that the entire surface is moved.
Tyre packer
The weight of the implement is borne across its full width by the tyre packer assembly; only the load applied by the drawbar acts on the tractor.
This makes it possible to use a tractor without front ballast, preventing harmful compaction and improving yield and long-term sustainability.
The operator can raise the implement hydraulically on the tyre packer assembly using the tractor's double-acting remote valve, giving a ground clearance of 270mm.
The Multiline runs on the tyre packer both on the land and the road.
The tyre packer assembly is divided into four sections with a central support; this ensures smooth running and optimal stability during transport, as well as preventing smear marks at the headland when turning.
In addition, wear on the road is reduced, extending the useful service life of the tyres.
Seed drills
The Vitasem ADD or Aerosem ADD seed drills are installed above the packer roller on the compact disc harrow or the stubble cultivator, whichever has been fitted.
The seed drill can easily be attached or removed, making the Terradisc and Synkro Multiline year-round implements with a wide range of applications.
The Multiline is available locally from Valtrac, SA distributors of Pöttinger equipment.
Joe Spencer is the mechanisation editor of Farmer's Weekly.