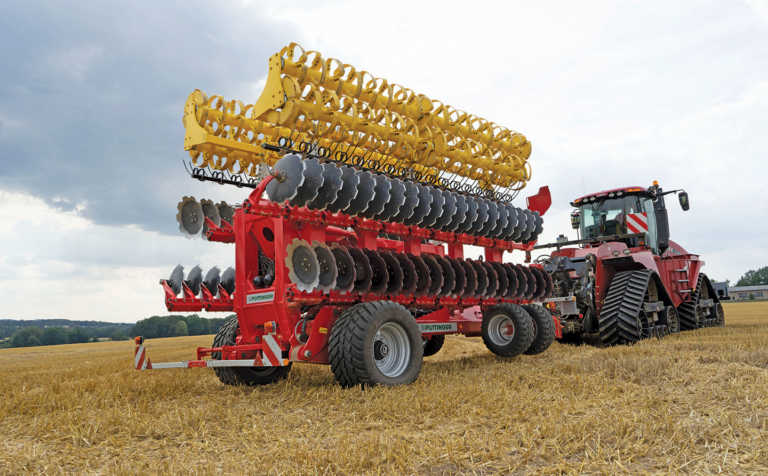 According to George Cilliers, sales manager at Valtrac Parys, the South African distributors for Pöttinger, they are scheduled to go on sale here early in 2019.
Pöttinger claims that the new Terradisc 8001 T and 10001 T, with working widths of 8m and 10m respectively, can incorporate harvest residue under varying operating conditions without blockages, even with high levels of straw and mulch.
With a working speed of up to 18km/h, the 10m-wide Terradisc can cover about 15ha/h.
The uniform, shallow working depth and optimal packing effect produce a perfect seedbed.
The compact design and aggressive disc angle ensure reliable penetration and thorough mixing of the soil and crop residue.
Twin-arm system
To achieve a uniform surface finish and the best mix of soil and vegetation, Pöttinger has optimised the geometry, size, mounting angle and penetration angle of the discs.
Two solid-forged carrier arms are welded to a very wide clamping bracket, ensuring that the discs always maintain their position and angle.
The hydraulically controlled depth setting, with jockey wheels (optional on the 8001 T, standard on the 10001 T), is easy to adjust for low draft, good penetration and an excellent tilth that incorporates all the crop residue.
When turning at the end of the land, the trailed Terradisc T is raised and carried on the rear roller so that its weight is distributed across the entire working width. This helps reduce compaction on the headland.
Three double-acting hydraulic remotes are used to pre-select the functions. An ISOBUS compatible control system and load-sensing hydraulics are optional.
Pöttinger can supply the new EXPERT 75 ISOBUS terminal, a convenient and intuitive single-handed control system with a touchscreen and scroll wheel. The terminal can be used with all other ISOBUS- compatible machines.
Joe Spencer is the mechanisation editor of Farmer's Weekly.