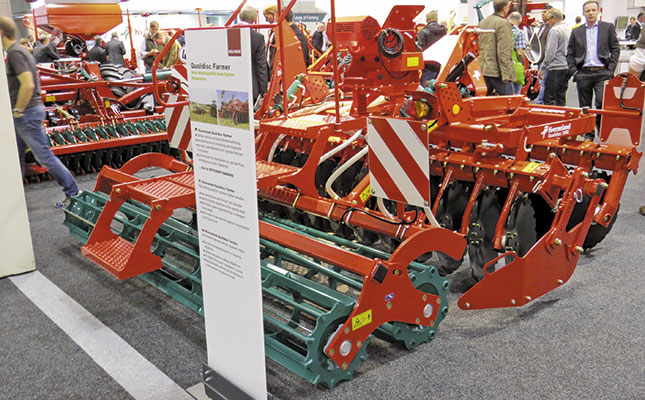 The Qualidisc Farmer 3000 from Kverneland is a compact disc harrow designed to work up to 100mm deep. The compact cultivator frame makes it easy to lift, even when fitted with heavy rollers.
READ: New machinery at Nampo 2016
Qualidisc Farmer 3000 specs
The Qualidisc Farmer 3000's large 520mm discs, set at an aggressive angle, are designed for optimal cutting, even at shallow depths and in high-residue soil. The discs are 5mm thick and hardened for long life, and their conical shape ensures that the cutting angle remains constant even when the disc diameter is reduced through wear. A drill is available for establishing cover crops during the stubbling action.
The 6m trailed Qualidisc Farmer T.
The trailed Qualidisc Farmer T comes in 4m and 6m widths with 520mm heat-treated discs and maintenance-free disc hubs for long life. The frame is designed to carry the heaviest rollers, such as the Actipack, where integrated cutting discs break the larger clods while the adjustable knives cut the rest. An OFF position allows the knives to be lifted out of work in order to leave a rougher soil surface to protect against capping and erosion.
Front gauge wheels, which can be adjusted manually or hydraulically, are available. The Kverneland seeding combination 6m-fold u-drill is a trailed seed drill combination that carries out seedbed preparation, levelling, reconsolidation, seeding and pressing in one pass. The hopper capacity is 4 350l and there are two electric metering units.
The u-drill has up to six working zones.
Zone 1, an 800mm diameter front wheel packer to level the soil, is followed by two rows of aggressively pitched 450mm conical discs in Zone 2. In Zone 3, a 900mm offset wheel packer reconsolidates the soil and helps reduce the draft requirement.
The heart of the drill, Zone 4, features Kverneland-developed CD steel twin disc coulters spaced at 125mm. The CD discs are gently profiled, requiring less pressure to penetrate the soil; the 100kg coulter pressure is transferred to depth guidance and press wheels located in Zone 5.
A buyer can choose either S-type tines or a finger-type following harrow, to suit his soil type. Kverneland and Vicon products are distributed in South Africa by Jupidex, based in Pietermaritzburg.
Self-propelled sprayer
Powered by a six-cylinder 180kW Perkins engine, the Kverneland iX Drive self-propelled sprayer offers two tank options – 4 000l or 5 000l – and HSS steel booms from 27m to 40m or HSA aluminium booms from 24m to 30m.

The Kverneland iX Drive self-propelled sprayer.
The iXDrive has a strong suspended parallelogram lift for optimal stability on the land and the road. It comes standard with the Kverneland iXclean Pro automatic valve management system. This allows all functions – filling, agitation, spraying, diluting, priming, rinsing and tank cleaning – to be controlled from the cab, which has excellent visibility.
This article was originally published in the 5 February 2016 issue of Farmers Weekly.