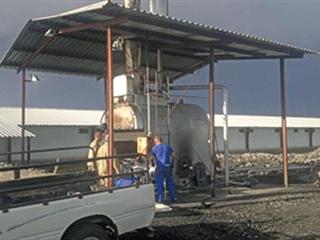 Hennie van der Westhuizen and Jaco de Kock won second prize at this year's Nampo Boerepatente competition for their oil-fired furnace, called the Heat Blast. They've now perfected their invention and it's manufactured by Inventors and Designers in Ventersdorp, a company owned by Neeltje Wilkens.
The object was to create a furnace that can burn waste oil, including old engine and cooking oil. The first unit, used in the boiler of their carcass meal rendering plant, reduced costs by 85% when compared with their gas-fired furnace. Van der Westhuizen and De Kock then refined the burner. In response to requests from the poultry industry, they added automatic functions with electronic sequence controllers operating solenoid valves.
At the time, the cost of heating a chicken house in winter with coal averaged between R40/hour and R60/ hour. Using old oil, the new furnace reduced this to between R10/ hour and R18/hour. What's more, the new burner enables the temperature in the chicken houses to be controlled more efficiently.
Eight units have been installed in a chicken operation in Bethlehem and a further 12 in Kroonstad, with orders in the pipeline. A unit has also been installed in a large boiler used to heat water for an abattoir in Zeerust. The owners report that their fuel costs have dropped from R1 700/ day to R300/ day. To give some idea of the savings involved, a small diesel burner uses about 17l of diesel an hour at a cost of about R170/hour – the waste oil burner can produce the same amount of heat using no more than 8l of waste oil an hour, costing about R24/ hour.
Automatic controls
The burner is equipped with an automatic re-start system, controlled by a flame detector. It can re-start itself three times and activates an alarm if anything goes wrong, such as a low level in the fuel tank.
A simple concept
One of the secrets of this unique system is the pressurised fuel tank. This allows the fairly large burner aperture to cope with old oil which may have impurities in it. An electrically driven compressor fills the air reservoir that provides the air stream to assist the combustion as well as pressurising the fuel tank. The fuel in the tank is heated to 40°C by means of a thermostatically controlled immersion heater (domestic geyser) to aid efficient combustion and a small amount of LP gas is used in the ignition cycle.


For more information on the equipment mentioned in this report, contact Cathy Heyne at Farmer's Weekly on 011 889 0836 or email [email protected]