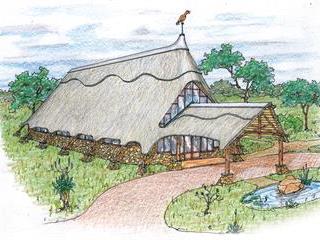 Paul, a previous client, has requested that the wedding facility he had been thinking of for the last six months go ahead.
I suggested to him that browsing through some of my 750-odd articles which I've produced for Farmer's Weekly readers over the past 15 years, would be sure to engender some concepts and conclusions. One of these plans caught his eye and led to the plan shown here.
Paul wanted his chapel to be rustic and blend into the natural environment; he had plenty of timber, rocks and thatching as building material. It had to be large enough to accommodate 200 guests.
Above is the layout sketch of the interdenominational chapel. It shows a cockerel on the chapel spire; this is removable so that it can be replaced with the religious symbol, such as a cross, preferred by the wedding couple.
The chapel is designed to accommodate 174 persons comfortably. This can be increased, as each bench can seat seven or more smaller-framed people.
Jonno