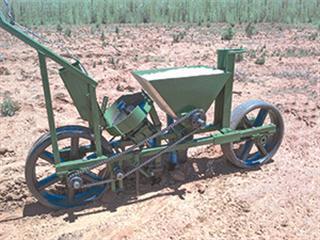 In 2010, Michris Janse van Rensburg of Bultfontein won first prize in the Nampo Boerepatente's Young Farmer category with his Backsaver hand planter. In 2011, he won first prize for his hand-propelled fertiliser applicator. Last year, he won a prize for his Pampoen planter. These have all proved to be very practicable solutions to many of the problems associated with improving the success rate of small-scale operators.
And his latest invention – a manually propelled combination seed and fertiliser planter, tentatively called the Backsaver Combi – looks set to be another winner. Its design is based on his own experience as a maize farmer. "Precise planting is the only way to ensure a good crop. For too long farmers in Africa have just put the seed in the ground and hoped for a crop," says Michris, adding that his new invention will give the small-scale operator the same potential as the farmer with a much more expensive planter.
It can be drawn by draught animals, pulled by two people or even pushed by just one. With two men pulling, tests show it's possible to plant a 100m row in about five minutes when planting just seed. More 'power' is needed when placing seed and fertiliser at optimum depths for good germination and growth. The fertiliser bin holds 8kg, which means that, at a rate of 30g/m, about 260m can be planted before re-filling. The seed plate is in full view of the operator, who can monitor the seed spacing.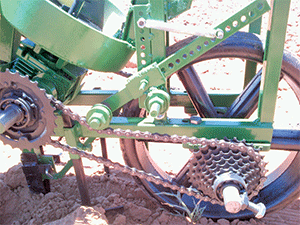 Accurate application rates
The highly accurate seed spacing can be adjusted from 3cm to 45cm by changing the gears and also the spacing of the holes in the seed plate. The application rate of fertiliser can be precisely adjusted simply by changing the gears, and the fertiliser is dispensed by means of the worm drive, as used on a John Deere planter. The Perspex seed plates are made to precisely suit the size and type of seed being planted. There's no limit to the shape of the holes or the spacing so that exact seeding specifications can be met.
Extremely popular
The Backsaver planters have proved extremely popular. In addition to basic planting for small-scale operators, they're also used by commercial farmers to fill in plant rows where poor germination or cutworm infestation has affected the original mechanically planted stand. The new planters, meanwhile, have already been exported to Mozambique, Zambia and Zimbabwe, and enquiries from prospective distributors are welcomed.