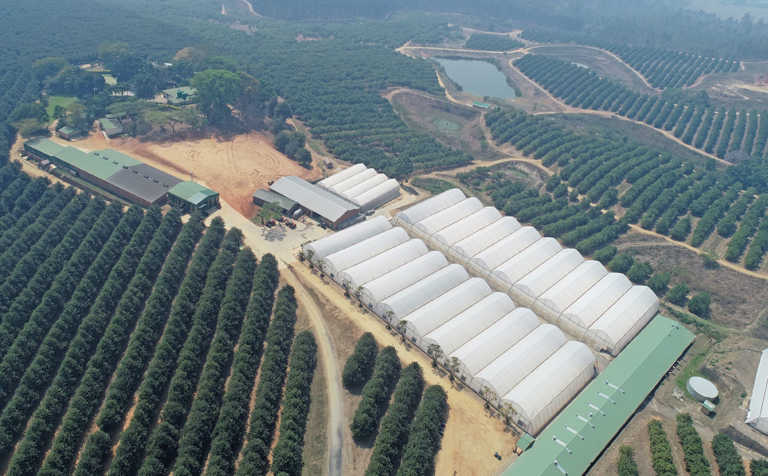 Today, thanks to digital precision and flexibility, it is possible to measure almost any parameters with an accuracy unimaginable a few years ago.
While this promises drastic improvements in efficiency, there is a risk that businesses can become overwhelmed by the sheer quantity of new data.
Agri tech company Aerobotics has sought to address this issue in the agriculture sector through developing software that allows farmers to make better sense of aerial survey data.
James Paterson, co-founder and CEO of Aerobotics, explains that the system keeps track of the health of each tree in an orchard by analysing data gathered by ordinary and multispectral cameras.
"The programme uses artificial intelligence to detect pest and disease problems by distinguishing between healthy and stressed trees. By bringing farmer validation into the loop, Aerobotics gets smarter all the time, which benefits all the growers on our platform."
According to Paterson, the software can identify the plant-damaging disease Phytophthora solely by analysing aerial data, and he and his colleagues are refining the system to identify other threats.
Global interest
The Aerobotics system has attracted great interest from investors, with the company raising over R24 million in start-up funding from various parties, including Nedbank and 4Di Capital locally, and AgFunder and AngelList in the US.
"We're using the funding for the commercialisation of the software, both locally and overseas, as well as to continue product development to make sure we're adding as much value as possible for farmers," says Paterson.
He claims that 40% of the South African macadamia nut industry and 20% of the country's citrus farmers are already using his company's software.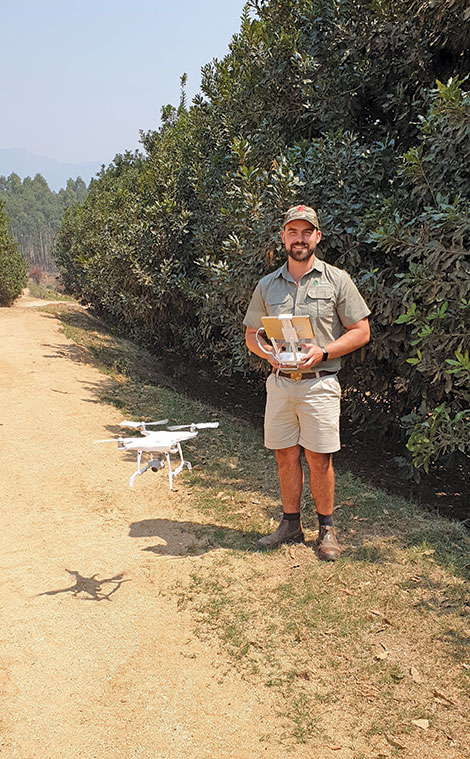 Moreover, it has also been tailored to the unique requirements of the wine grape and pome fruit industries.
Aerobotics recently launched the software in Florida in the US to help the citrus industry there identify trees affected by Huanglongbing, a devastating disease more commonly known as citrus greening.
"No cure exists for it. We aim to help the Florida growers detect problems early so they can prevent the spread of the disease and allow the industry to accurately estimate the impact on orchards and production," says Paterson.
Crop estimates
Back in South Africa, the technology seems to be living up to farmers' expectations. Macadamia growing and processing company Mayo Macs started using it in April this year to count the number of trees in orchards as a free service to their more than 200 shareholder farmers.
Andrew Sheard, a technical manager at Mayo Macs, says the main reason his business started using the technology was to improve the accuracy of their crop estimates in order to make better marketing decisions.
"Previously, our estimates were based on historical production and orchard data, which had become dated due to new orchards coming into production," he explains.
He adds that using aerial technology costs less than employing people to physically count the trees, and is far quicker and more accurate.
The software enabled Mayo Macs to record the number of trees per orchard and per grower.
This data was then interpreted, with tree age and yield/cultivar included, to forecast production for each orchard, grower and the group as a whole over the medium to long term.
The technology initially struggled to identify individual trees in older orchards, where the large tree canopies made it difficult to detect where one tree started and another ended. Aerobotics modified the program's algorithms to overcome this challenge.
"There'll always be growing pains with the adoption of new technology," says Sheard.
"What's great about Aerobotics is that they understand the interdependence between
farmers and suppliers, and that suppliers' success is directly dependent on the efficiencies farmers achieve due to their technology. The company is extremely supportive and open to suggestions for improvements."
Mayo Macs' shareholders have also started using a second Aerobotics product: a scouting program, launched at the same time as the aerial surveys.
"Farmers can feel overwhelmed by all this new technology but there has been positive feedback about using the program. Uptake should increase rapidly as they become more used to the idea of using the software and experience its advantages," says Sheard.
Another Aerobotics customer, 75ha macadamia farm Anro Boerdery near Barberton in Mpumalanga, has been using the scouting technology for the past seven months.
Production manager Marloe van Niekerk says the technology has enabled him to manage the large farm more efficiently. Because of its size, it is impractical for workers to walk through each tree row every week.
"With aerial imagery and Aerobotics software, we can monitor the health of trees and easily identify when there's something wrong. This allows us to use our labour more effectively, for example in our nursery or on the processing side."
Tool for farmworkers
The technology also provides Van Niekerk's farmworkers with a map that helps them easily locate the affected trees to inspect the cause of stress, which may be anything from a broken irrigation pipe to a disease.
They can then take photographs of symptoms or insects for record-keeping, or obtain outside advice on the cause of the problem.
Although Van Niekerk is unable to quantify the benefit of the technology, he says it has greatly improved their water-use efficiency.
"We aren't necessarily using less water, but we've improved our irrigation scheduling by identifying water or heat stress early. This is reflected in the good health or our trees."
The cost of the technology depends largely on the way it is used, the crop being evaluated, and the size of the area scouted.
For example, Anro Boerdery bought its own drone (a DJI Phantom 4 PRO drone costing R75 000), which means it pays only a R3 000 activation fee to Aerobotics and accesses the software at R10/ ha.
Farmers without a drone pay R300/ ha, with unlimited uploads. A seasonal package is available at R500/ ha, which includes three serviced drone flights.
Van Niekerk was surprised by the accuracy and speed of the technology.
"I thought we'd have to wait for months before using the data generated, but we received information from the second day of using the software," he says.
Email Andrew Sheard at [email protected], Marloe van Niekerk at [email protected], or James Paterson at [email protected].